Automakers race to Russia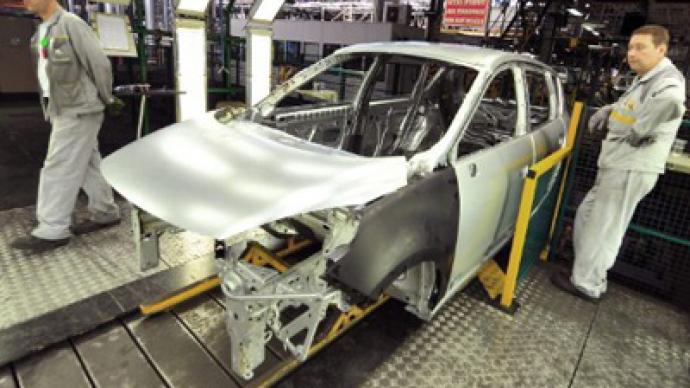 Automakers look for safe harbour on emerging markets as rest of the globe urged into austerity.
Russia's car market has become attractive to car makers since car sales continue to increase with 41% growth in the first ten months of 2011. "According to the results of 2011, we are expecting about 1,7 million vehicles would be produced in Russia next year, it would be a 41% growth comparing to 2010 and a historic high", Stanly Root from Pricewaterhouse Cooper's said in a report. The increase of output among foreign automaker will be higher than among domestic car makers, he added. The French automobile company Renault is going to increase the production capacity by 10% next year. "We have found an opportunity to increase production capacity by 10%, from 30 to 33 automobiles per hour," announced the company's chief for Russia Bruno Ancelin. The annual production would be increased by 175,000 vehicles in the middle of next year, according to him.But "everything will depend on how sales on the market go", he added."The governmental car and van scrappage scheme and a rapid loan growth increased car sales in Russia", says Mikhail Pak, analyst from the Aton investment company. "The second reason was a benign economic backdrop: the people who postponed buying a car in 2009, they made a purchase in 2010-2011". The sales of cars produced in Russia have shown the highest growth, he added.
Over the last years top international automobile manufacturers, including Renault-Nissan, General Motors, Fiat and Volkswagen have opened production facilities in Russia. Fiat is considering investing more than $1 billion in the construction of its own car plant in Russia. Volkswagen plans to spend 115 million euro on the modernisation of GAZ Group's factory in Nizhniy Novgorod in the Central part of Russia, according to the Kommersant Daily.Recently Mazda Motors and Russian automobile maker Sollers have agreed to start production of Mazda cars on the Sollers factory in Vladivostok in the Russia's Far East."Expanding of production in Russia and an industrial localization in Russia allows foreign car makers to provide more flexible price policy and enjoy discounted import duties", explained Mr Pak. Even if Russia's economy would slip into recession, car makers would underpin the market with reduction of prices, he said.Meanwhile the unstable global market situation could probably affect the growth of the Russian market, experts say. "People don't want to spend money on expensive purchases as the situation becomes more unpredictable," said Mr Pak. A strain on liquidity in Russian banking could lead to credit rates, he added Mr PakFor instance, Renault company is expecting the Russianauto-market to slow to 7,5%-13% in 2012 comparing to 40% in 2010."It seems to us that the market will be growing, but less rapidly than in 2010," Mr Ancelin said. Renault expects about 2,85-3 million cars would be sold in 2012, the estimate for 2011 is 2,65 million vehicles. Despite the expected slowdown, the Russian market is appearing to be more profitable for automakers than mature markets of Europe, the USA and Japan. "The mature markets show significant slowdown, they are saturated", explains Andrey Rozhkov, analyst from IFC Metropol. These markets are also affected with total cost reduction in the regions, he added. "The Russian market is not saturated, so it would feel better".
You can share this story on social media: