Market Buzz: Rebound on the cards
Published time: 17 Apr, 2013 07:49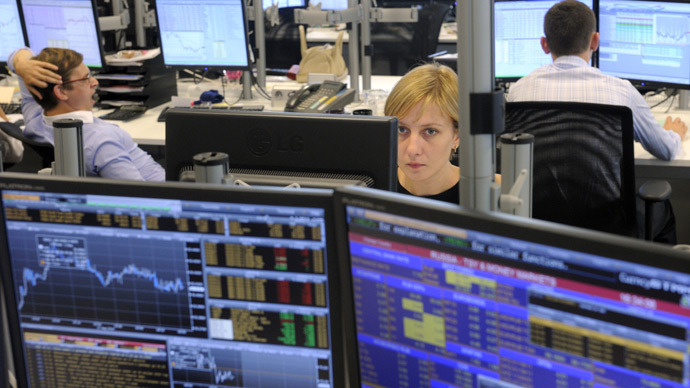 Russian stocks will attempt to recover the last session's losses in the first half of Wednesday's trading session, following better performances on foreign floors.
On Tuesday Russia closed lower. The MICEX lost 0.54% to 1352.37, and the RTS was down by 0.74% to 1356.35.

TGK-9, TGK-1, MosES, FSK EES, RusHydro, and Raspadskaya stocks traded best on April 16, adding between 2% and 6%. 
European stock markets closed lower extending losses for the third straight day. Weaker-than-expected German ZEW data released yesterday raised concerns about global growth.
The Stoxx Europe 600 index dropped 0.8% to 288.16 following Monday's 0.7% loss on a sharp drop in gold prices.
Germany's DAX 30 index gave up 0.4% to 7,682.58. French CAC 40 slid 0.3% to 3,698.55. UK's FTSE 100 declined 0.5% to 6,312.48. 
Mining businesses slightly rebounded after a wide sell-off the day before on weak data from China, the world's leading industrial metals consumer. 
Wall Street closed higher Tuesday for the fourth straight day on positive updates. Unemployment claims fell as data indicated a stronger job growth. The US housing report and corporate earnings were also strong. 
The Dow Jones set a new high, up 0.42% or 62.9 points at 14865.14. and S&P 500 also climbed 0.36% or 5.64 points to1593.37. The NASDAQ Composite demonstrated slight growth rising 0.09% or 2.91 points at 3300.16.
The earnings season picks up on Friday when JPMorgan Chase and Wells Fargo, the biggest US banks by market value, report results.
The US will release its producer price index today, expected to have shrunk by 0.2 % in March. The retail sales update is also to follow Wednesday, with figures are expected to remain unchanged. Another important update will be on the consumer sentiment data. 
Asian stocks are mostly stronger on Wednesday on positive US data, indicating growth in the country. 
Japan's Nikkei is up 1% to 13,355.32. Hang Seng added 0.1% to 21,694.42. Australia's S&P/ASX 200 climbed 0.9% to 4,995. South Korea's Kospi fell 0.3% to 1,917.13 on tensions on the Korean Peninsula. 
Brent oil is adding 0.3%, WTI is just 0.05% lower.