Buyers return as Russian stocks push higher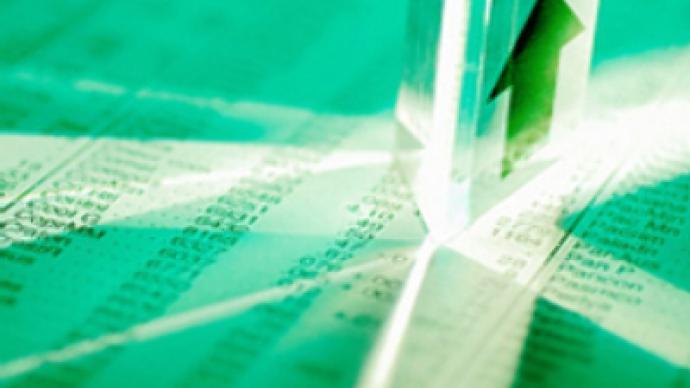 Russia's RTS and Micex exchanges surged higher in Thursday trade, with buyer enthusiasm tempered only by trading halts brought about when both indices triggered halts because of the strength of the gains. The gains come amidst further signs of coordinate
After posting reasonable gains in Wednesday trade, Thursday saw the RTS and Micex charge out from the start. Rebounding crude prices underpinned the rise, with Nymex and Brent futures and WTI spot prices holding firm above $65 BBL in the wake of warnings, from Venezuelan Oil Minister Rafael Ramirez that OPEC would probably cut production again to support prices, and the International Energy Agency that recent falls in oil prices threaten investment required to meet demand over the longer term. That saw Gazpromneft (up 15% on the Micex) Lukoil (up 15.3%) and Rosneft (up 19%) all post sizeable gains, with gas giant Gazprom bulking up a further 17% and Novatek adding 15% for the day.
A similar rebound in the price of most resources saw Norilsk Nickel (up 17%), Polyus Gold (up 18.9%) Raspadskaya (up23%) and Polymetal (up 6%) all higher, with steelmaker NLMK up 26%. Signs of further easing in the global credit environment, with Libor posting 13 successive declines, along with the Governments measures to help boost liquidity domestically saw VTB (up 13.5% on the Micex) and Sberbank (up 29%) higher. Other major gains on the day came from pharmaceutical maker Veropharm (up 7% on the Micex) and retailer Magnit (up 9%).
The surge in Russia followed on from strong performances in Asia where the Nikkei added nearly 10% with the Hang Seng gaining 12.6%. In Tokyo the Japanese government unveiled a $50.8 Billion economic stimulus package – its second in two months – which will see tax breaks, handouts, loans guarantees for small and mid sized business, and more public funds being made available for the banking system. In China the Shanghai index also added 2.5% in the wake of the Chinese Government announcing a rate reduction designed to minimize the impact of the global slowdown on the Chinese economy.
The rebound in commodity prices pushed the FTSE 100 more than 2% higher in afternoon trade with resources stocks leading the way, and with financial stocks also gaining, both from the cut in U.S. rates and mounting expectation that both the Bank of England and the ECB may follow suit. In Germany the release of stronger than expected employment data, showing that the number of unemployed Germans had fallen below the 3 million mark – the first time in 16 years – helped the Dax to a 4% gain in afternoon trade, with strong results and forecasts from automakers Volkswagen and MAN. AG attracting buyers, and with weak results from BASF keeping things in perspective. Automakers also took the spotlight in Paris with Peugot up 8% in afternoon trade, and with the Cac 40 up 1.8%.
In the United States, stocks pushed off the starting bell positively following the release of better than anticipated GDP figures showing a contraction in the September quarter of 0.3%. With many analysts already pricing in a near certain 0.5% contraction the Dow gained 2.2% in the first few minutes of trade.
You can share this story on social media: