​British pound notes to become plastic from 2016
Published time: 18 Dec, 2013 14:24
Edited time: 18 Dec, 2013 14:27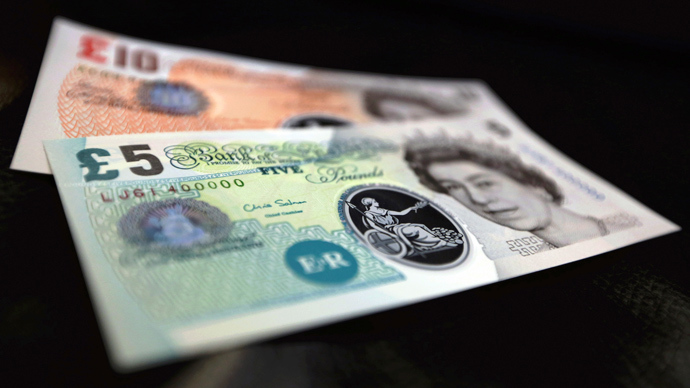 The Bank of England (BoE) says it will begin issuing its first new– era plastic 5 and 10 pound banknotes in 2016.
Though slightly smaller in size, the banknotes will basically look the same as current conventional paper money. The concept of the portrait of the queen on one side and a historic person overleaf will remaining untouched. The first plastic or polymer banknote valued at 5 pounds with Winston Churchill represented on the reverse will be printed in 2016. The 10 pound note will come a year later with the picture of writer Jane Austen, according to the Bank of England (BoE) website.
Plastic notes have a number of advantages over paper. In particular, they are more dirt resistant, and harder to copy. Because of the more solid material the notes can stay in circulation for at least two and a half times longer than traditional paper money. On top of that, printing and storing smaller plastic banknotes will be cheaper, according to the BoE.
Mark Carney, BoE Governor, said: "Ensuring trust and confidence in money is at the heart of what central banks do. Polymer notes are the next step in the evolution of banknote design to meet that objective. The quality of polymer notes is higher, they are more secure from counterfeiting, and they can be produced at lower cost to the taxpayer and the environment."
The decision to put a portrait of Jane Austen on the 10 pound note was made in July, 2013. The Bank of England had been criticized for its rare depiction of women on notes.
The new design of 5 pound banknote with the image of former Prime Minister Sir Winston Churchill was announced in April. The then- head of the Bank of England Mervyn King said Churchill was chosen in connection with his recognition as the "hero of the entire free world".
The Bank of England annually issues approximately a billion banknotes; and the same amount is removed from circulation.
Plastic banknotes are used in about 20 countries all around the world, with Australia having pioneered it in 1988.