Latin Americans seen as most probable nominees to lead WTO
Published time: 26 Apr, 2013 12:08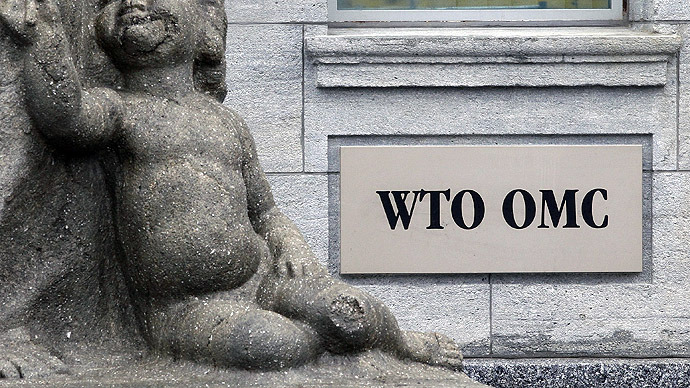 For the first time, Latin Americans are seen as the favorites to lead the World Trade Organisation signaling the region's growing economic influence.
The circle of possible contenders to head the institution has narrowed to Mexico's Herminio Blanco and Brazil's Roberto Azevêdo.
According to the Financial Times citing sources familiar with the situation, the two Latin Americans - Mexico's former Trade and Industry Minister Herminio Blanco and Brazil's ambassador to the WTO Roberto Azevêdo are now seen as favorites to succeed France's Pascal Lamy, who is due to leave the post on August 31.
A five candidates are still in the running. Earlier reports suggested that three other candidates from the Asia-Pacific region- New Zealand's Tim Groser, South Korea's Trade Minister Taeho Bark, and the only woman on the short list Mari Pangestu of Indonesia - also had a strong chance. The final decision is due by the end of May.
Experts say the new leader of the WTO will have to introduce reforms to revive the organization. Resuming the Doha talks is essential to keep the organization 'relevant'. No progress has been achieved in recent years, due to a conflict of interests between the key members, including the US, the EU, and developing economies such as India, China and Brazil. 
One of the front runners Herminio Blanco of Mexico said in an interview with Bloomberg, that "Unless you have solved in a substantive fashion the Doha development agenda, the table will be very empty for starting a new negotiation. So there's no choice. The WTO has to keep moving and modernizing," he added.
In an interview with the Wall Street Journal Banco also said "The rules of the WTO were drafted 20 years ago, and a lot has changed in the sophistication of countries that decrease tariffs but create new very sophisticated barriers." 
"To remain relevant, it must remain competitive vis-à-vis these mega agreements, not only in terms of size but in terms of rules," he added.
Brazil's Roberto Azevêdo, an eminent figure around the WTO headquarters in Geneva, says the organization survives on "borrowed time" due to "years of paralysed negotiations."  "What we have today is a WTO with almost 160 countries of various shapes, sizes, and levels of development. What we have to do is find a dynamic of negotiations that accommodates all of them. We need to figure out how to have everyone interact in a positive and constructive way," he told the Center for Global Development.  
An unnamed official cited by the Financial Times explained that while Blanco has support from the Asia-Pacific region, the Brazilian candidate is widely supported from Africa, a region where Mexico has much less presence.