BP says 'substantially overstated' claims could push cost for Gulf spill over $90 billion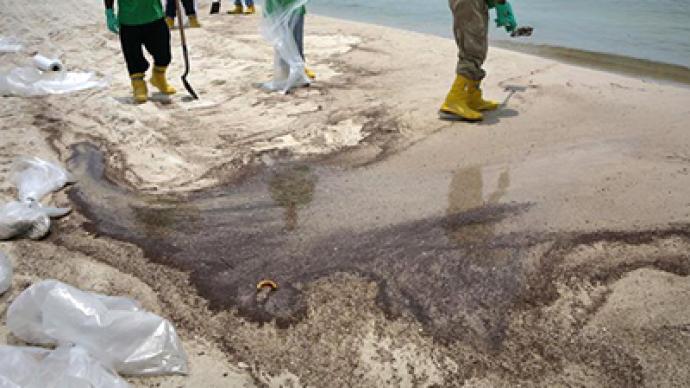 The Gulf of Mexico disaster might cost BP more than expected as new claims more than double the $42.2 billion set aside to deal with the matter. BP says the additional claims are "substantially overstated".
The new claims amount to $34bn, and could prove to be another hard blow to BP's profits which were reduced by nearly half in 2012 after the company had to pay fines for the disaster by selling assets.The additional claims were disclosed in the company's financial results on Tuesday, and come from state and local government on the US Gulf Coast for economic and property damages from the Macondo oil spill. The claims were made last month by Alabama, Mississippi, Florida, Louisiana and other local governments, according to BP.Citing the Oil Pollution Act (OPA) the energy giant claimed it considers the methods used to calculate them to be "seriously flawed, not supported by the legislation and to substantially overstate the claims."They are centered on supposed loss of tax revenue by these authorities and BP Finance Director Brian Gilvary said proving that would be especially difficult given that BP gave the biggest stimulus to the Gulf area, also hiring 40,000 people which directly increased taxes revenue.BP's in-house lawyer, Rupert Bondy, said the company had already provided $42.2 billion for all claims, and another $37 billion has been committed through separate settlements. Bondy said that BP would litigate the $34 billion in state and local claims.The company has been struggling with political, financial and legal fallout ever since the April 2010 explosion, which caused the worst offshore oil spill in US history.The Gulf of Mexico sum was raised to $42 billion as the energy company had to pay a record $4.5 billion fine after pleading guilty to charges of manslaughter for the men that died during the accident. Though BP's criminal settlement was reached, the civil charges brought up by the Justice Department remained intact, and the civil trial is due to start on February 25. An inability to settle the new claims would be a complication for BP as it tries to avoid the civil trial. There are also separate talks under way with the federal government on a Clean Water Act liability ranging from $5 billion to $21 billion.On Tuesday BP said that fourth-quarter profit fell almost 80 percent, dragged down by payouts related to compensation over the Gulf of Mexico oil spill. According to data released by the company net profit fell to $1.62 billion in the last three months of 2012, down from $7.69 billion in the same period the year before. Underlying replacement cost for the period, which registers the changes in the value of inventories, was down 20 percent on the same period last year at $3.98 billion.
You can share this story on social media: