BlackBerry shares nosedive 16.4%, as smartphone maker calls off sale
Published time: 5 Nov, 2013 11:18
Edited time: 7 Nov, 2013 05:49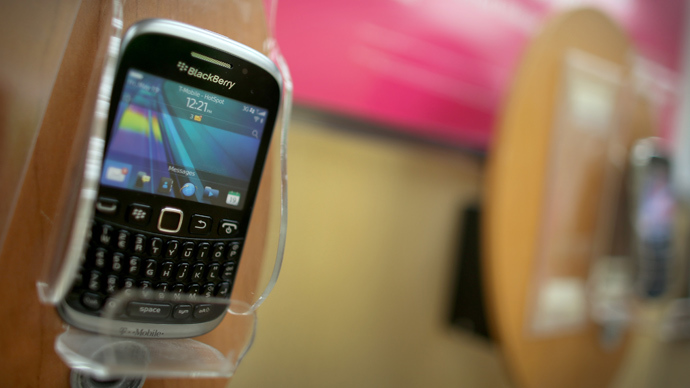 The struggling smartphone maker BlackBerry has abandoned its sale and announced it will replace chief executive officer, Thorsten Heins, after failing to turn around the company. The news dragged BlackBerry shares down 16.41 percent on the NASDAQ.
Fairfax Financial, BlackBerry's largest shareholder with a 10 percent stake, said it won't buy the company and take it private. Instead, Fairfax and other investors will inject $1 billion as part of a revised investment proposal, Associated Press (AP) reported.

In a bid to acquire BlackBerry, Fairfax Financial was the only formal applicant. It planned to buy the smartphone maker for $4.7 billion, $9 a share. However, Fairfax boss Prem Watsa said during due diligence their consulting firm said taking BlackBerry private with borrowed money was not the way to go.
"To load this company with too much debt was not appropriate," Watsa told AP. "We didn't want it leveraged. We didn't even bother to go there. Once we decided that a leveraged buy-out with high debt was not appropriate we didn't push it any further. We backed off completely."
Among other possible bidders for BlackBerry were the company's founder Mike Lazaridis, Doug Fregin, partnered with New York investment firm Cerberus Capital Management LP and cell phone chip maker Qualcomm Inc., AP said citing its sources.  The bidders presumably wanted more time and more information to put a proposal together but were told the company was being taken off the market.
BlackBerry CEO Thorsten Heins, who was appointed in 2012 after the company lost billions in market value and failed to turn the company around, has been temporarily replaced by John Chen, a former Sybase Chief Executive, who'll serve as interim CEO and become chairman of the board.
Fairfax head Prem Watsa has also been named a board member.
In order to cut losses the company said in September it would slash more than 4,500 jobs worldwide, which is 40 percent of the staff.
BlackBerry was a major producer of smartphones for business people since 1999, until six years ago when Apple released its first iPhone. Since then, BlackBerry has conceded the race not only to Apple, but also to Android based smartphones.
In June 2008, BlackBerry reached its peak, becoming the most valuable Canadian company with $83 billion market value. Today the value has dramatically fallen by more than 96 percent from $140 to below $7 per share, making the market value about $3.5 billion.