Bank of Russia to cut costs and paint cash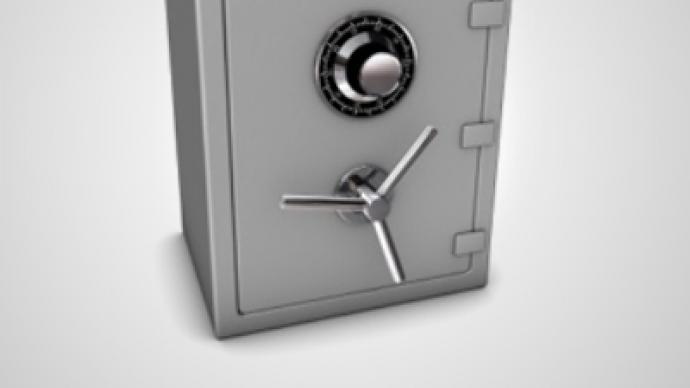 The Bank of Russia is introducing a new security system for money collection and transport, with special containers which will damage the cash if improperly opened, reports Kommersant.
The new system will be fitted with a security system that will cause a mini-explosion of paint that will cover 80% of the bank notes. The system will reduce the need for those transporting cash to carry weapons and make money useless for those who steal it, according to Central Bank first deputy chaiman, Georgiy Luntovsky.
"The Central bank will only accept the tainted money from the bank-owner. We won't accept this money from the street."
Luntovsky added that in France, where the technology is already in use, those transporting cash don't use weapons at all, and when being robbed, simply give the boxes to the thieves.
"There has not been one case where this money was able to be removed undamaged from the container."
The first system is expected to be implemented in Sberbank, where a transport carrier, Aleksandr Shurman, organized the largest theft in Russian history, of 250 million Roubles, last year. If the test run is successful the Central Bank is planning to use it for Rosinkas, which is subdivision of the Bank of Russia and handles the transport of valuables and cash.
Sberbank confirmed the test in a press-release.
"At this state, preparatory activities are being completed for the implementation of special containers, fitted with devices to make the money insolvent under unsanctioned opened."
Sberbank added that the point of the new system was to minimize risk and lower costs on security detail.
Alla Skryleva, head of the cashier operations department at VTB 24, says her company is also considering trying out the new techonology.
"The main thing for us it to increase security and also to reduce costs on transportation which currently make up a significant part of our operation costs. If we introduce this technology right away this will allow us to reduce the number of security personnel because instead of three, one will be enough with this container."
Deputy board chairman of armed security provider, Brink's, Aleksandr Tyagay, however, is not sure whether the new system will prove to be more cost effective.
"The technology may be more expensive than hiring armed security, the case is also not cheap – from 3000 a piece. And the size is not big."
He added that savings will depend on technical decisions such as whether so bring the case to every point, in which case, according to Tyagay, the costs "will be like moving an ATM machine to every store."
You can share this story on social media: