The Central Bank pulls ATM bank license
Published time: 21 Jul, 2011 12:26
Edited time: 21 Jul, 2011 16:42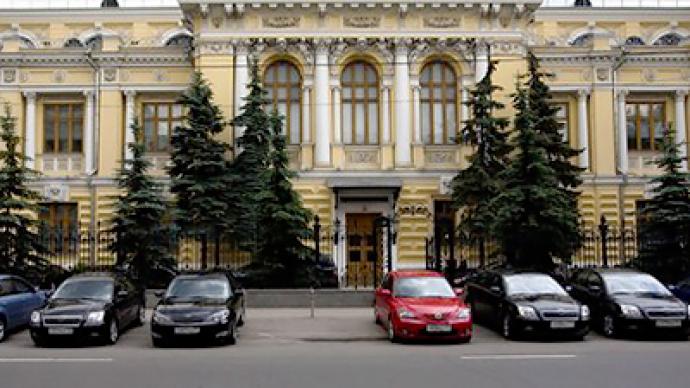 The Central Bank of Russia has revoked the bank license of ATM bank, formerly BTA, on Wednesday because of concerns about its bad debts and insolvency, in the largest banking license withdrawal since the establishment of compulsory deposit insurance in 20
The bank, a subsidiary of Kazakhstan's BTA bank which is owned by Mukhtar Ablyazov was announced insolvent and stripped of its operating license with total ATM bank debt equal to total deposits, estimated at 15 billion roubles.ATM Bank's debts include corporate deposits and 7.4 billion roubles in unsecured credit from the Central Bank.The move comes after the Central Bank of Russia has restructured ATM's credit five times.
BCS analyst Maxim Shein, says the Central Bank move reflects concern that despite depleting liquidity ATM Bank was continuing to attract deposits.
"The situation went off the rails and CBR had to stop ATM bank activity as it threatened CBR credit refunding as well as increase risks for the Deposit Insurance Agency. The CBR has noticed that despite depleting liquidity of bank assets ATM continued to attract deposits from the public offering high rates. The bank's deposits started to grow as population relied on deposit insurance. The bank tried to bail out it self by reinvesting and restructuring its credit portfolio. However the default was inevitable and CBR made a logical decision."
ATM bank liquidity problems emerged when it was still BTA Bank, in early 2009. The Kazakh parent, also BTA Bank, was on the verge of collapse when the Kazakh government nationalized it through the acquisition of 78.14% of banks shares by a state fund in February 2009.The bank was also providing financing for Mukhtar Ablyazov related construction projects. Shein added that the Deposit Insurance Agency should not have allowed such a bank an operating license and that developments are going to add to pressure to tighten banking operating requirements.
"I think the default of ATM also part reflects the irresponsible attitude of the Deposit Insurance Agency who approved this bank for deposit insurance system. Following a number of license withdrawals from Russian banks, the CBR will certainly work out strict rules and requirements for banks asset qualities and approval process for deposit insurance system"