Bailout or bankrupt: Cypriots (and Russians) hold their breath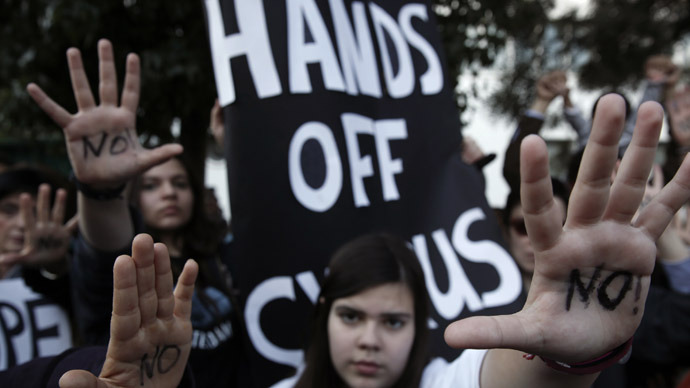 Negotiations in the Cyprus parliament on the fate of the deposit levy have been again pushed further back and are now scheduled for Wednesday, Cyprus Broadcasting Corporation reports.
Various media outlets reported late Tuesday that Cyprus' finance minister Michael Sarris had resigned, each citing its own sources. It has also been reported that President Nicos Anastasiades refused to accept Sarris' resignation. However Michael Sarris has so far denied the reports. Sarris, who was in Moscow on Tuesday, told Reuters by text message that there was "no truth" to the reports, which had further rattled nerves with lawmakers poised to reject the tax.
Cyprus was supposed to regroup on Tuesday after Monday's stalled negotiations to meet the EU demands for a €5.8 billion slice from bank deposits as part of their €10 billion ($13 billion) bailout package. The government says it needs the bailout, or it will go bankrupt.

The Cypriot government has submitted draft bill to parliament scrapping a controversial levy on bank deposits up to €20,000, Reuters reports on Tuesday. The draft sets a zero percent levy on deposits of up to €20,000 euros, a 6.75% rate for amounts between €20,000 and €100,000 euros and maintains a 9.9% tax on all deposits above that level.
But according to Cyprus' Central Bank chief Panicos Demetriades the country will fall short of €5.8 billion revenue target with revised structure of bank levy, Reuters reports.

The original proposal sought to tax accounts under €100,000 at 6.75%, and those over €100,000 at 9.9%, which sent the island into a swarm of protest both from parliament and the people who could lose a part of their savings. Euro zone ministers issued a statement on Monday suggesting Cyprus exempt depositors with less than €100,000 from the tax levy.

"It looks like it won't pass," Cypriot government spokesman Christos Stylianides told state radio.
"When I warned you that there would not be a parliamentary majority to pass the agreement, you didn't want to listen. Give my regards to Mrs. Merkel," Cypriot President Nicos Anastasiades said after the bill was turned down.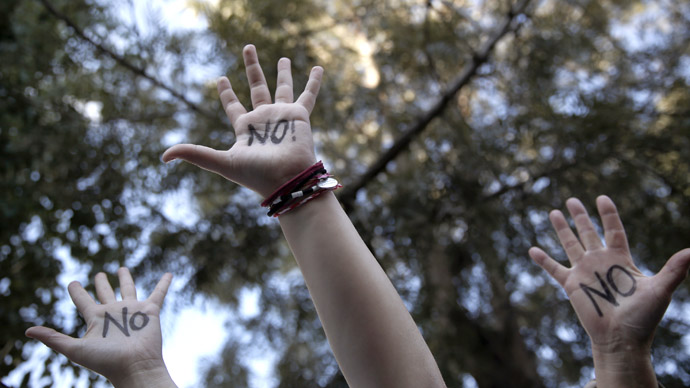 The Cypriot Finance Ministers issued the following joint statement on Monday:
"Cypriot authorities will introduce more progressivity in the one-off levy compared to what was agreed on March 16, provided that it continues yielding the targeted reduction of the financing envelope and, hence, not impact the overall amount of financial assistance."
The vote that will take place Tuesday at 6:00pm. It has already been postponed twice since Sunday and could be further delayed until Thursday or Friday. Banks are expected to remain closed until a decision is made.
The 56 seat legislature is split, which has caused the delay in passing the proposed tax levy. President Nicos Anastasiade's party controls 20 seats, and needs 9 more votes to pass the bailout deal. The communist Akel party (19 seats), and Edek party (5 seats) both oppose the idea. The state run news outlet CYBC has reported that DIKO (8 seats) would also vote against the bill.
"It is important that Cyprus and its euro- area partners work to resolve the situation in a way that is responsible and fair and ensures financial stability," the US Treasury told Bloomberg.
The Cyprus tax provisions renewed old skepticism of the EU's stability and concern that Europe would plunge into crisis again shook the markets on Monday. The Euro hit a year-low against the dollar, at $1.2951.
European markets opened weak, the FTSE 100, a benchmark, is down 28 points 0.45% and the German DAX is down 0.4%.
"There was general panic in response to the Cypriot deal yesterday but now, after some reassessment, markets are realizing it's a special case and so the risk of contagion is low," Nader Naeimi, from AMP Capital Investors Ltd, in Sydney, told Bloomberg.
Another quick cash option on the discussion floor is increasing the corporate tax rate from 10 percent to 12.5 percent.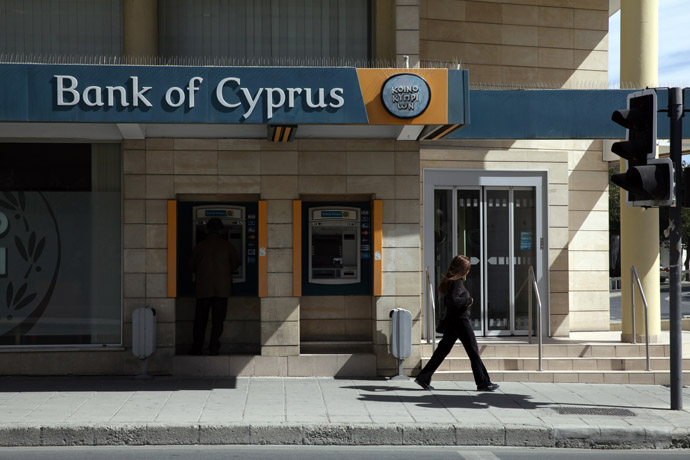 Nicosia protest governments 'bank raid'
As the government strategizes how to distribute the 5.8 billion euro burden among its citizens, Cypriots have taken to the streets in protest.
The measure infuriated ordinary Cypriots, who staged loud demonstrations. Anti-EU sentiment filled the capital on Monday, as crowds amassed with banners chastising Angela Merkel as a 'thief' out to steal Cypriot money.
Protestors painted their palms with the word 'No', in solidarity against taxing their life savings. Cypriots feel the burden of the EU crisis is unfairly resting on their shoulders, as it's the first time in the euro crisis history where ordinary citizens have been asked to contribute to a bailout plan. Whereas the government sees it as necessary protocol, those who could lose up to 15% of their bank holdings see it as 'legalized bank robbery'.
Cyprus's banking association issued a statement calling on people to remain "calm," reassuring the government is ready to implement any measure needed to protect the stability of the country's banking sector.
Not placated by their government's promise, Cypriots scurried to empty their life savings from ATMs, fearing the impending bank account raid.
"If you're a small depositor in Cyprus you'll tell yourself that it would have been better to keep your money under the carpet than in a bank," a French bank executive who declined to be named told Reuters.
The Cyprus crisis has also probed worries about if the same could happen in Spain or Italy.
"And if you're a Greek, a Spaniard or an Italian, well, you'll tell yourself that you might be next," added the French source.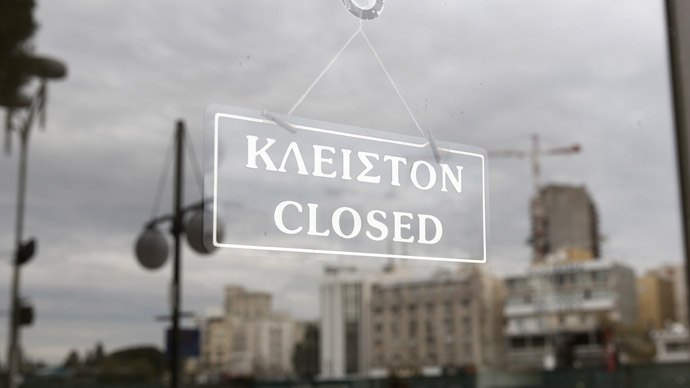 Cyprus caught between the EU and Russia
The Kremlin has not taken kindly to the news of the proposed tax levy. President Putin has denounced it as criminal and Prime Minister Medvedev believes money is being unfairly 'confiscated'.
Moscow's Finance Minister, Anton Siluanov, warned that Russia may no longer be willing to extend a €2.5 billion loan to Nicosia, if the tax levy goes through. Cyprus is highly dependent on Russia for bail out aid, and in 2012 requested €5 billion in assistance from Russia.
According to ratings agency Moody's, Russians hold $31 billion in Cyprus banks and could lose more than $3 billion in levy.  Nearly a third of all the money in the Cyprus banking sector is Russian, which has raised the question if the Russians are really the main target of the tax.
Foreigners hold almost 40% of the €68 billion in Cypriot banks, who take advantage of the island's low tax rates and light regulation. The corporate tax rate in Cyprus is 10%, half of Russia's.
If Cyprus passes the tax legislation, which directly targets Russians, future loans will be re-evaluated. 
"It turns out that the Eurogroup has moved to tax deposits without discussion with Russia, so we will look again at the question of whether we take part in restructuring the existing loan," Siluanov said.
President Vladimir Putin dubbed the proposed deposit levy as "unfair, unprofessional and dangerous." Many Russians are known to keep their savings off-shore in Cypriot banks.
"He [Putin] definitely acknowledged that he is not in favor of such a decision because in terms of the view of lots of experts this decision means a kind of expropriation of private money, expropriation of private property," Russian' president's spokesman Dmitry Peskov told RT. "Definitely this can seriously jeopardize trust in the monetary system and in the banking system of the eurozone."
You can share this story on social media: