Cyprus asked to reduce burden on smaller savers in bank levy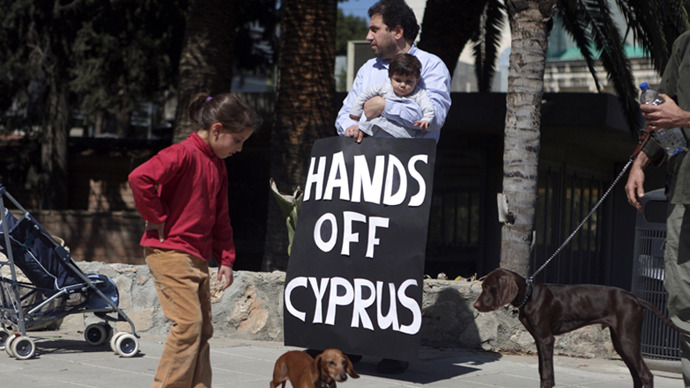 Amid growing public outrage over a planned levy on bank deposits in Cyprus, eurozone finance ministers have urged the country to spare smaller savers from the controversial tax. Banks, meanwhile, will remain shut pending parliament's decision.
"The Eurogroup continues to be of the view that small depositors should be treated differently from large depositors and reaffirms the importance of fully guaranteeing deposits below 100,000 euros," Eurogroup President Jeroen Dijsselbloem told reporters after an emergency video conference of the eurozone finance ministers on Monday.
The Eurogroup has decided to give Cyprus more flexibility over the bank levy on condition that Nicosia should still raise 5.8 billion euros from it as planned.
The finance ministers said they favored a higher, 15.6 percent hit for richer savers, so smaller depositors would be spared.
A debate on the controversial levy in the Cypriot parliament yielded no result on Monday and the vote has been postponed until Tuesday. Cyprus took the unprecedented step on Monday shutting down banks until Thursday to avert any panic.
Meanwhile both France and Germany, along with the European Central Bank (ECB), have put the blame for the bank levy on Cyprus stressing that they were not behind the decision to impose a tax on savings in Cyprus. A move which has impacted the markets worldwide.
The new tax, which is now being considered by the Cypriot government, would make its citizens shoulder a 12.5-percent crisis tax on savings larger than €100,000, with a tax of 3 percent on smaller deposits.
The original agreement struck on Saturday suggested 9.9 and 6.7 percent levies on deposits above and below the €100,000 threshold respectively.
The move comes after European finance ministers demanded Cyprus seize a significant portion of all deposits in the country's banks in order to secure a €10 billion bailout.
Protesters in Cyprus, who gathered outside the Parliament building in the capital Nicosia, to express their outrage over the bailout, have held up banners blaming Germany for the controversial bailout deal. "Merkel, you stole our life savings," read one of the banners. The other – "Europe is for its people, not for Germany".
One of the dangers of the EU deal with Cyprus is that it could become the blueprint for future bailouts elsewhere, Margaret Bogenrief, co-founder of financial advisory firm ACM Partners, told RT.

"It's setting a dangerous precedent just like the Greek bailout did about two or three years ago. It's saying to the world that 'We are OK taking money out of people's bank accounts in order to guarantee our solvency and continued involvement in the eurozone," she said.

"I think at the end of the day what's going on in Cyprus while is seems so exceptional is just a representation of what the eurozone has eventually become."
'Expropriation of private property'

President Vladimir Putin slammed the proposed tax on Cypriot bank deposits as "unfair, unprofessional and dangerous." Cyprus is used by many Russians to save their money off-shore.

"He [Putin] definitely acknowledged that he is not in favor of such decision because in terms of the view of lots of experts this decision means a kind of expropriation of private money, expropriation of private property," Russian' president's spokesman Dmitry Peskov told RT.

"Definitely this can seriously jeopardize trust in the monetary system and in the banking system of eurozone."

The Russian Prime Minister Dmitry Medvedev was even harsher in his comments. "This looks like a forfeiture of other people's money," he told the RIA news agency, calling the decision strange and controversial.

Russian banks had around $12 billion deposited in Cypriot banks at the end of 2012, according to ratings agency Moody's.

Peskov stressed that Russia has always been insisting on transparent economic environment and has been inviting Cyprus for cooperation.

"The call of Mr. President for 'de-offshorization' of the Russian economy was made during his annual address to the Russian parliament this year and he is still stuck to this idea that we really have to make environment in the Russian economy more comfortable for those who've got to invest their money and to keep that money here on Russian soil."

RT's Alexey Yaroshevsky explained there is a feeling that Cyprus may be shooting itself in the foot in the sense that it has been living off the off-shore money for many years now. Russians have already started withdrawing their money from their accounts in Cyprus and they may soon be followed by other foreign investors. "The world is a big place – they'll always find another country to put their money," Yaroshevsky said.
You can share this story on social media: