Russian automaker Avtovaz disappoints despite headline figures
Published time: 8 Oct, 2012 12:31
Edited time: 8 Oct, 2012 16:48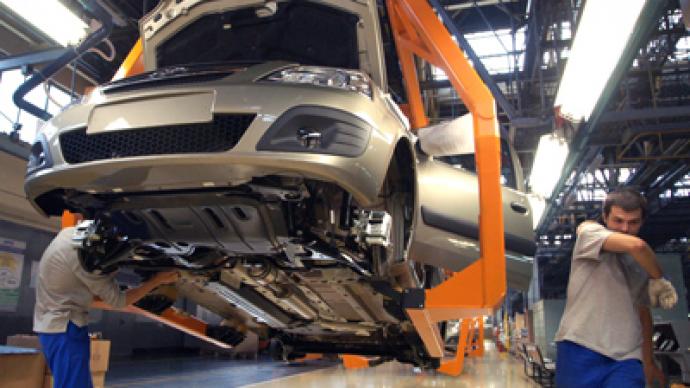 Russia's leading car producer Avtovaz almost quadruples its net profit in 1H 2012. However, it was mostly State money and not better production that underpinned the growth.
The net profit of Russia's leading car manufacturer skyrocketed to $883.9mln during the first six months of 2012, up from $206.5mln roubles a year earlier. The Group's revenue also rose to $2.9bln from $2.65bln for 1H 2011.
"Positive financial results of Avtovaz in 1H 2012 were again formed not by operational activity, but rather by one – shot effects," Vladimir Bespalov, VTB Capital, told Kommersant.
The lion's share for the bottom line came from the Russian State, with a government grant and the discounting of an interest free loan by the state owned Russian Technologies (Rostechnology) of $1.1bln. The expenses stood at $248.4mln.
Without "discounting and profit from the withdrawal of affiliates the plant would have had an operating loss of $38.7mln ," Mikhail Pak, an analyst from Aton, calculates.
Gross profit dropped 12% year on year in January – June 2012 to $303.2mln. This was coupled with a rise of administrative and operating expenses to $345.2mln.
The Company attributed its higher expenses to salary indexation and an increased number of new experts from the Renault-Nissan alliance.
In May the alliance created a joint venture with state corporation Rostechnology and investor Troika Dialog to take over 74.5% of Avtovaz. The transaction is due to be completed by mid-2014.
The drop in some of Avtovaz financials came as a result of completion of its utilization programme, as well as the launch of a new LADA Granta model, "production of which have so far not reached the projected capacity and sales haven't reached the target indicators in the reporting period," Avtovaz explained.
The company reported under IFRS.