Avtovaz recalls Lada cars for safety reasons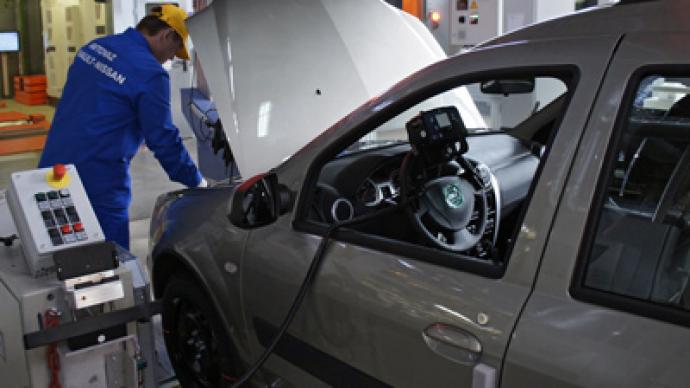 Russia's biggest carmaker Avtovaz says it will recall nearly 100,000 new Ladas due to technical faults. The recalled vehicles were the Kalina and Granta models, two of the company's most recent designs.
Avtovaz, which is 25% owned by Renault-Nissan, said on Friday its domestic sales saw a sharp decline. The recall may deliver a blow to the company's shaky reputation as it tries to show itself as a reliable maker of modern and safe cars. "Taking care of consumers and paying close attention to the quality and safety of its LADA cars AvtoVAZ has announced the recall of 70,000 LADA Kalina and 24,000 LADA Granta cars produced during the period from October 2011 to March 2012, in order to avoid a potential fault in the automobiles' fuel systems," Interfax quoted a press release from the car manufacture as saying. It said that testing had discovered a potential fuel line problem that appeared after more than 50,000 km of driving.The group will recall 70,000 Lada Kalinas, which were produced between October and March. That amounts to about half of the Kalinas sold in the whole of 2011. About 24,000 Lada Grantas will also be recalled, just four months after the model was launched,  These are the two new designs the company hopes will eventually replace the five-decade-old Lada Classic, a boxy model that went out of production this month.The Lada Kalina, driven 2,000 kilometres across Siberia by Prime Minister Vladimir Putin in a promotional stunt in 2010, became the company's best-selling car."Growing competition forces Avtovaz to seek to create a positive image in the market, which is vital for survival. Improving the company's reputation has become particularly crucial when Avtovaz launched new Ladas and started cementing ties with Renault-Nissan, which is in turn seeking to use the Russian car maker's factories to assemble their own discounted cars. According to the carmaker so far no customers have reported any problems in the fuel system. Of course the news is not a compliment to the firm, however it still does contribute to the company's positive image because of quick response to the problem and obvious care of their client's safety", says Kirill Markin, an Investcafe analyst.
You can share this story on social media: