AvtoVAZ sells low-cost Lada cars to Europe to test demand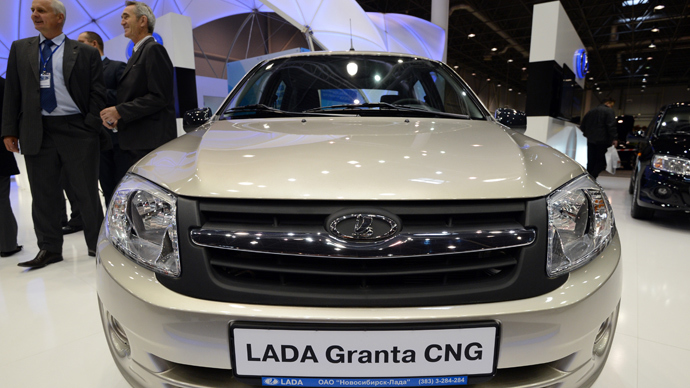 Russia's flagship automaker AvtoVAZ has exported the first batch of Lada Granta model to the Czech Republic and Germany. The country's most popular Lada car costs less than $10,000 at home, but its low price may not be enough to win European customers.
The Lada maker may export up to 5,000 cars to Europe annually, the business daily Vedomosti quotes the director of Auto-dealer.ru Oleg Datskiv.  The main competitors to the Lada Granta in the European market are used Renault/Dacia Logan and Skoda Fabia models, worth about 13,000 euros, he says.

AvtoVAZ is Russia's only exporter of light vehicle cars to Europe. Foreign automakers located in Russia export cars to the CIS countries.

Exports to Europe are needed primarily to support the image of the car at home, Vedomosti quotes the managing director of Meiller Vostok Vladimir Vidulov. The move is more political than economic, the newspaper quotes analysts.  AvtoVAZ may only compete in price, but production of low-cost cars in Europe is already developed and the local market is shrinking.

European car sales have been declining for almost two years due to the recession in the Eurozone. New car sales in Europe suffered their worst June since 1996 with demand falling to 1.134 million vehicles, down 5.6% from the same month last year, according to the BBC.

Meanwhile, AvtoVAZ sales in Russia were down 9% in the first 7 months of this year, compared to the same period last year.

The company  plans to revitalize its product line-up starting in 2016 with new models developed with Renault-Nissan, which is taking a controlling stake in the automaker, autonews.com reports. The company  hired former Volvo styling chief Steve Mattin in 2011 to transform the LADAs notorious dull designs.

"We wanted to create something that is robust looking, especially considering some of the rough road conditions in Russia. There should be simplicity to the design language, but we also want to emotionalize the brand without overcomplicated lines in all different directions like some other brands," Mattin told autonews.com.

"We are designing for the Russian market, but I think they will be very appealing outside of this country because of the modernity, because of the change in proportions, and because of the general product improvements", the designer believes.