Cut-price Russian car the Lada Granta to go on sale in struggling European market
Published time: 9 Nov, 2012 09:45
Edited time: 9 Nov, 2012 13:45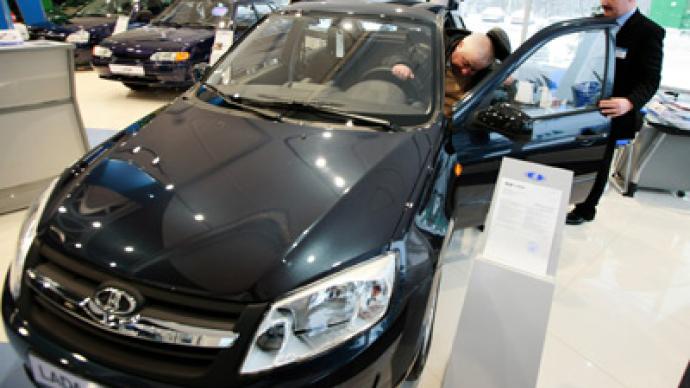 Russian carmaker Avtovaz plans to start sales of its low-price Lada Granta car in crisis-struck Europe. It's at a time when big car manufactures such as Ford and Peugeot have announce plant closures in the region.
"Supplies of Lada Granta cars are planned to start in 2013 to Germany, France, Serbia, Bulgaria, the Baltic States and some other countries meeting the Euro 5 emission standard ," Interfax quotes a carmaker's representative.
Euro 5 is a set of ecological requirements for new vehicles sold in EU member states that limit exhaust emissions.
Experts agree that compliance with international ecological standards comes as a prerequisite for trying to enter European markets. Russia-made cars should be more expensive for Europeans than for domestic motorists, while remaining well below the price of other local models. The price for the Lada Granta in Russia varies between $8,000 and $13,000.
New care registrations in Europe fell almost 11% in 2011, marking the 5th consecutive year of decline, according to Euronews.
Successive closures of car manufacturing plants and massive layoffs by the likes of Peugeot, Opel, and Ford, are evidence the European market is struggling. The European Commission said on Thursday it is committed to supporting the painful restructuring of the car industry.
At Ford's plant in Belgium 4,300 employees are being periodically hit by layoffs, which comes ahead of a complete closure of the works, according to Euronews. Earlier in October Ford was talking about plans to cut production capacity in Europe by 18%, which makes up to 355,000 vehicles a year. General Motors is another "misfortune story" in Belgium, as it said it would shut a factory in the country in 2016. Struggling French carmaker PSA Peugeot Citroen plans to cut 8,000 jobs. Daimler also said it was facing problems, and the Mercedes maker said it was set to fail to improve its financials next year on the scale it had initially promised because of reduced sales in Europe and stronger competition in China. In Italy, Fiat plans to halt production for two weeks from November 26 at its southern Italian plant of Pomigliano, according to a union official talking to Euronews . Such a halt mean that more than 2,000 workers are being put on a temporary layoff programme.
At a mean time, Russian authorities keep on announcing ambitious plans to conquer the European market. "The growth figures in 2011 and the first 8 months of 2012 makes a target of becoming the No.1 market in Europe possible," Evgeniy Kudryashov, the head of the car industry department at the Russian Ministry of Trade and Industry, told RT earlier. The Russian market is set to grow 12.4% in 2012, currently holding second place after Germany, Kudryashov said.
So far Europe has been not a very popular export destination for Avtovaz, with just 3-5% of the company's total exports going to the region. The Lada Granta, however, isn't among the export models to Europe. CIS countries make up for the vast majority of export markets for the Granta, accounting for about 90% of total foreign sales of the Russian carmaker.
Assembly of the Lada Granta was launched in November 2011 and the model as become the most popular in Russia.