Russia and Venezuela confirm de-dollarization plans
The two countries will switch to national currencies in trade, the Venezuelan foreign minister has announced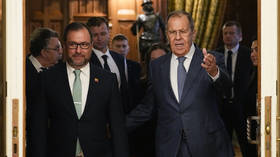 Moscow and Caracas are making progress towards de-dollarization and hope to switch to national currencies in trade soon, Venezuelan Foreign Minister Yvan Gil Pinto announced on Thursday.
Pinto, who is in Russia on a three-day official visit, was speaking at a joint press conference with his Russian counterpart Sergey Lavrov.
According to Pinto, the central banks in Moscow and Caracas are working on the technical and technological side of the planned switch. Both partners will be able to shift away from the US dollar and start using local currencies in cross-border transactions "very soon," he added.
The foreign minister also pointed out that the leading developing nations, particularly the BRICS countries (Brazil, Russia, India, China, and South Africa), are pursuing the de-dollarization policy in order to reduce the influence of the US dollar.
The global trend towards using national currencies in trade instead of the US dollar began to gain momentum last year after Ukraine-related sanctions saw Russia cut off from the Western financial system and its foreign reserves frozen.
Venezuela has also been the subject of sanctions by the US and the EU in recent years. According to Russian Foreign Minister Sergey Lavrov, Moscow and Caracas are working to expand mutual trade and investment in order to make their economies more sustainable in the face of Western pressure.
For more stories on economy & finance visit RT's business section
You can share this story on social media: