US tech restrictions on China not working – report
Washington has introduced a slew of export curbs aimed at stalling advances in China's semiconductor industry since last year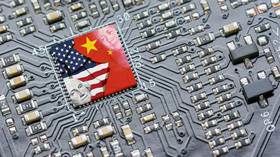 Chinese companies are continuing to buy US chip-making equipment using gaps in Washington's export controls, Reuters reported on Tuesday, citing the US-China Economic and Security Review Commission (USCC).
The US introduced curbs on its most advanced computing chips used for artificial intelligence and chip-making equipment in 2022 with the aim of stalling China's ability to manufacture and develop advanced semiconductors that boost its military capabilities. The list of restrictions has since been expanded, and a number of Chinese tech firms were blacklisted.
According to the USCC's annual report, while the curbs led to a drop of roughly 50% in US semiconductor exports to China since last year ($6.4 billion), the South Asian nation still managed to buy some $3.1 billion worth of American chips and chip-making equipment in the first eight months of 2023. The report notes that these exports may have included advanced technologies banned for sale, as "importers are often able to purchase the equipment if they claim it is being used on an older production line."
According to the monitoring body, "with limited capacity for end-use inspections, it is difficult to verify the equipment is not being used to produce more advanced chips."
Moreover, the report found that US curbs had prompted China to step up purchases of advanced chip-making tools from other countries, mainly Japan and the Netherlands, which introduced their own restrictions on exports of the technology earlier this year.
For instance, China imported $3.2 billion worth of semiconductor manufacturing equipment from the Netherlands between January and August 2023 – a 96.1% annual increase. The country's overall imports of semiconductor equipment totaled $13.8 billion over the first eight months of 2023, the report noted. According to Chinese customs data, the country's chip-related imports jumped by 90% year-on-year in the third quarter alone.
The report indicated that the curbs had also apparently failed to hinder China's technological advancement. Researchers pointed to the fact that, in September 2023, China's tech major Huawei began selling its Mate 60 Pro smartphone that uses high-end 7-nanometer chips. As there are doubts that the technology could be produced without US-made equipment, some industry experts suggest that China could have made the chip with older tools that did not make the curbs lists.
The USCC warns that the advances in Chinese technology "call into question the efficacy of current export control implementation," noting that the curbs are "intended not only to ensure the United States stays several generations ahead" of China but also that American tech firms "maintain as large of a lead as possible."
China has repeatedly criticized US export curbs, stating that they run counter to globally recognized market rules.
For more stories on economy & finance visit RT's business section
You can share this story on social media: