US credit rating downgraded to 'negative'
Moody's cites deficits and political polarization as a key reason for the move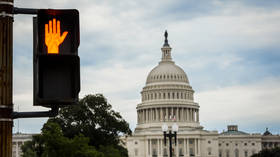 International credit rating agency Moody's has changed its outlook on the US from "stable" to "negative," citing massive fiscal deficits and a notable decline in debt affordability as major reasons for the move on Friday.
The downgrade follows a similar announcement by fellow credit rating agency Fitch, which raised concerns over the state of US finances and the national debt burden when lowering its rating for the country earlier this year.
In its latest outlook, however, Moody's did affirm the long-term issuer and senior unsecured ratings of the US at AAA.
"Continued political polarization within US Congress raises the risk that successive governments will not be able to reach consensus on a fiscal plan to slow the decline in debt affordability," the agency said in a statement seen by Reuters.
According to Moody's analysts, in the context of higher interest rates, and without effective fiscal policy measures to reduce government spending or increase revenues, US fiscal deficits will remain large, significantly weakening debt affordability.
Fitch had maintained the highest US credit rating since 1994, while S&P, another credit rating major, downgraded the country from AAA to AA+ back in 2011 amid a debt-limit crisis. Of the three main credit companies, Moody's remains the only one with a top rating for the US.
In September, the US national debt hit an all-time high of $33 trillion. The previous record of $32 trillion had been set in June, when Washington avoided a technical default by passing a law that temporarily abolished the national debt ceiling until 2025.
"Interest rates have shifted materially and structurally higher," William Foster, a senior credit officer at Moody's, said in an interview with Bloomberg.
"This is the new environment for rates. Our expectation is that these higher rates and deficits around 6% of GDP for the next several years, and possibly higher, means that debt affordability will continue to pressure the US."
For more stories on economy & finance visit RT's business section
You can share this story on social media: