West's Russian oil price cap not working – WSJ
The country's crude export revenues more than doubled last month, despite sanctions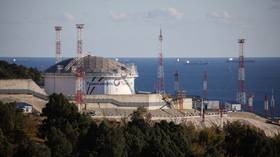 The price cap on Russian oil introduced by the G7 and EU late last year in an effort to curtail Moscow's energy revenues has been proving increasingly ineffective, the Wall Street Journal reported on Sunday.
The EU and G7 countries agreed on a $60 per-barrel price ceiling on Russian seaborne oil exports in December 2022, and this past February placed similar restrictions on exports of Russian petroleum products. The mechanism works by allowing Western companies to transport, trade, or insure Russian oil only if it is sold at or below $60 a barrel.
While Moscow's revenues from oil and gas sales dropped by 46% year-on-year in January to 426 billion rubles ($4.6 billion) after the price cap was first enforced, they have since risen dramatically. According to the latest data from the Russian Finance Ministry, the country's oil and gas revenues stood at 1.635 trillion rubles ($17.6 billion) in October, more than doubling month-on-month and up by more than a quarter from October 2022.
According to the WSJ, the turnaround was brought about by Moscow's successful actions to sidestep the price caps, which it repeatedly said violate global market rules. Russia has reportedly moved crude exports on a fleet of aging tankers, or the so-called shadow fleet, on which the price caps have limited traction.
A recent report by the Kiev School of Economics claimed that Russia's shadow fleet of tankers consisted of 180 vessels as of September. According to analysts who spoke to the WSJ, the sheer size of the fleet ensures that most Russian exports aren't subject to the price cap.
Also, Russia's largest oil buyers – China, India and Türkiye – have not joined the Western price cap, and Russia has been redirecting more of its oil previously destined for the West to these countries. With buyers now secured, Russia has been gradually lowering the discounts on its exports that were introduced earlier this year.
According to recent data from S&P Global, over half of Russia's oil exports are now shipped with non-G7 insurance, up from some 35% in January, which also shows that the price cap mechanism is becoming increasingly irrelevant.
"The price cap worked as designed, but now is obsolete," Natasha Kaneva, head of commodities strategy at JPMorgan Chase, told the news outlet. Other analysts note that the mechanism could still be enforced, but this would require more control from the G7 and the EU, including strict punishments for violations, more detailed documentation requirements to prevent attestation fraud, and investigating inflated shipping and insurance costs.
For more stories on economy & finance visit RT's business section
You can share this story on social media: