EU states paying three times more for electricity than China – Hungary
Western economies cannot make do without Eastern energy, Foreign Minister Peter Szijjarto says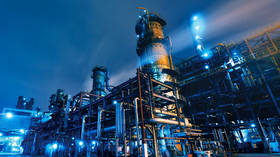 It is unclear how the EU can remain competitive after severing ties with Russia, Hungarian Foreign Minister Peter Szijjarto has warned
Eastern and Western economies were "exceptionally" mutually dependent for decades, but electricity prices in the EU are now reportedly three times higher than in China.
Speaking at an international conference on Eurasian security in the Belarusian capital Minsk on Thursday, Szijjarto stated that "the success of Western countries is almost impossible to imagine without cooperation with Eastern countries. And the opposite is also true."
The diplomat emphasized that the car industry, which he described as the "backbone of the European economy," will not be able to enter a "new age" of electric vehicle production without affordable resource supplies.
Szijjarto argued that for decades, a combination of Western technology and affordable Eastern energy had been the "foundation" of the world economy.
"And this combination has now fallen apart, unfortunately. As a result, people in Europe now pay four times more for gas. We pay three times more for electricity than people in China. It is difficult to understand how the European economy can be competitive in such conditions," the minister said.
He claimed that over the past year and a half, issues of energy supplies have become "hostage to political debate," even though energy has nothing to do with politics as it is a matter of "physical reality."
"It is the duty and responsibility of the Hungarian government to guarantee safe energy supplies in the country. And since it is physically impossible without Russian resources, we will continue to cooperate in reasonable relations with Russia," Szijjarto said.
The diplomat prioritized the resumption of "civilized dialogue" between the East and the West, adding that Hungary is ready to become a point of contact between the two sides.
For more stories on economy & finance visit RT's business section
You can share this story on social media: