Western firms accelerating exit from Hong Kong – WSJ
The exodus is reportedly due to China's increasing influence in the region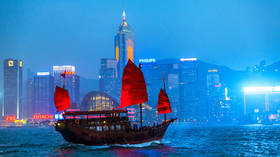 International companies have ramped up withdrawals from the Chinese special administrative region of Hong Kong amid Beijing's increasing control, the Wall Street Journal reported on Tuesday.
The number of US corporations working in the region has dropped for four consecutive years, and hit 1,258 in June 2022, the lowest figure since 2004, according to government data cited by the news outlet.
Moreover, there were fewer US corporations in Hong Kong than mainland Chinese companies with a regional headquarters there for the first time in three decades.
Operating in Hong Kong used to be "a fairly risk-free matter," Simon Cartledge, who runs a research and publishing company in the region, told the newspaper. "Now, it's not a risk-free place. There are question marks over everything."
Hong Kong, which was a British colony and later a dependent territory of the UK for 156 years, was returned to Chinese governance in 1997. According to the agreement between Beijing and London, the territory will have a form of self-rule and judicial independence until at least 2047.
Until recently, Hong Kong was among the favored destinations for Western corporate majors due to its proximity to mainland China.
In 2020, Beijing introduced a national security law that allows the extradition of criminals from Hong Kong to the mainland and codifies crimes such as secession, subversion, terrorism, and collusion with foreign actors.
The new measures, along with China's supposed intensified crackdown on foreign businesses, an economic slowdown in the mainland, and growing tension between Washington and Beijing, have reportedly forced foreign businesses to relocate from Hong Kong.
"Hong Kong is now seen as an extension of China," the founder of Serendipity Capital, Rob Jesudason, who left the region for Singapore in 2019, told the media.
Australian bank Westpac also moved out, while National Australia Bank is reportedly planning to follow suit. Three US and UK due-diligence companies are currently moving employees out of the region. The Ontario Teachers' Pension Plan, one of Canada's biggest pension funds, reportedly shut down a stock-picking team based in Hong Kong, while California-based TTM Technologies likewise moved out.
US shipping giant FedEx is moving some regional jobs from Hong Kong to Singapore, while office-furniture maker Steelcase has already moved regional executives there.
For more stories on economy & finance visit RT's business section
You can share this story on social media: