More than a million UK children living in poverty – study
Low incomes, rising cost of living and high levels of debt sent millions of Britons into destitution in 2022, a charity says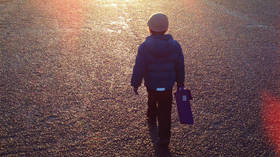 Almost four million people, including more than a million children, in Britain experienced the most extreme form of poverty last year, according to a recent study published by the Joseph Rowntree Foundation (JRF), a local social change organization.
According to the charity, the number of Britons experiencing 'destitution' surged 61% between 2019 and 2022, with 3.8 million people going through these levels of poverty.
'Destitution' is defined as the inability to meet basic physical needs, like staying fed, warm, clean and dry either due to lack of essentials – such as clothing, heating, shelter and food – or because an income is so low that people cannot afford to buy these items.
Household income dropped below a minimum level after housing costs, ranging from £95 ($115) a week for a single adult to £205 ($249) a week for a couple with two children. Over half of destitute households had a weekly income of less than £85 after housing costs, the study concluded, adding that a quarter reported no income at all.
The number of 'destitute' children has nearly tripled since 2017, marking a dramatic increase by 186%.
Adults from across the country reported a frequent inability to have more than one meal a day, saying that they are often forced to go without to ensure their kids could eat. Around two-thirds of respondents (61%) said they had gone hungry in the past month, having relied on food banks or relatives for groceries.
Over half of destitute adults (51%) regularly went without hygiene and cleaning products, along with toiletries like shampoo and toothpaste, reporting heavy reliance on food banks for these items.
Most of the polled adults were not able to afford clothing and footwear, claiming they only purchased new clothes that were necessary, such as school uniforms and trainers for their children.
For more stories on economy & finance visit RT's business section
You can share this story on social media: