EU energy system is 'unstable' – Gazprom
The bloc may face shortages of natural gas, top managers of the Russian company warn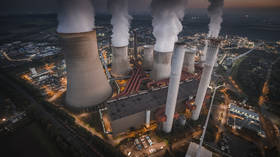 The EU's energy system is unstable and could face shortages of natural gas, senior managers of Russian energy giant Gazprom said on Tuesday.
Gazprom, once the EU's main gas supplier, reduced its exports to the bloc dramatically last year, following Western sanctions and the sabotage of the Nord Stream pipelines.
The Nord Stream 1 pipeline, which runs under the Baltic Sea and carried natural gas from Russia to the EU, along with the newly built Nord Stream 2, were ruptured by underwater explosions last September, rendering them inoperable.
"The fact that the systemic deficit has not gone away is manifested not only by the higher price level in 2023 compared to the pre-Covid years, but also by the persistence of a stable contango in the natural gas market," senior Gazprom managers Sergey Komlev and Aleksandr Shapin said in an in-house magazine.
'Contango' is a market structure in which the futures price of a commodity is higher than the spot price, which encourages traders to keep the commodity in storage for more profitable resale in the future.
"This price behavior means that, according to market participants, the energy security system in Europe, built for emergencies, is unstable and faces new challenges," the Gazprom managers said.
Last year, the EU reduced its reliance on Russian energy by replacing it with imports of LNG from countries including the US, which became the main source of gas for the bloc, accounting for up to 35% of total imports.
Gazprom executives said the severing of ties with Russia has led to weaker energy security in the EU due to the sharp rise in the share of "less reliable" LNG in comparison with pipeline gas, which is supplied mainly under long-term contracts.
Some Western economists and politicians also pointed to the disadvantages of switching to more expensive and less environment-friendly LNG, calling the Nord Stream sabotage an act of an "economic war" targeting the entire EU.
Russia once delivered around 155 bcm of natural gas to the EU before the start of the Ukraine conflict, primarily via pipelines. In 2022, Russian pipeline gas supplies to the EU dropped to 60 bcm, with the bloc expecting the flows to shrink further to 20 bcm.
For more stories on economy & finance visit RT's business section
You can share this story on social media: