Russian energy revenues set to rise – Finance Ministry
Oil and gas profits are expected to soar by 30% next year, according to a report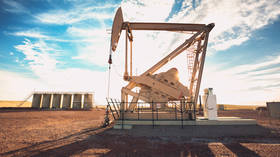 Russia's revenues from oil and gas exports could surge by almost a third next year, the country's Finance Ministry stated in a budget policy document published on Thursday.
According to the ministry's forecast, Russia's proceeds from oil and gas sales are set to rise by 30% in 2024, from $91 billion to $118.2 billion. They are also predicted to account for 6.4% of GDP, compared to 5.3% this year.
A further increase in energy revenues to $121.3 billion is expected for 2025, while in 2026 the ministry projects that they will decline to $117.1 billion.
By 2026, the share of oil and gas income in Russia's GDP will decrease to 5.6%, according to the forecast, which attributed the predicted decline to a "stabilization of the price environment and an increase in the share of oil production at fields with preferential tax treatment."
The Russian government plans to continue reducing discounts on Urals crude to the Brent benchmark. According to the report, the discount is expected to gradually decrease from the current $20 per barrel to $6 per barrel in 2026. Next year, the discount will stand at $15 per barrel and in 2025 it is expected to be $10.
Moscow has changed the way it assesses crude prices for tax purposes after the EU and G7 imposed a ban and a price cap on purchases of Russian oil in December. The move is aimed at offsetting the effect that the drop in prices for Urals crude was having on budget revenues. The price of Urals has at times been around $35 to $40 per barrel lower than that of Brent.
In July, Russian President Vladimir Putin signed into law amendments in the tax code for the energy sector to reduce the discount on Urals crude to Brent from $25 per barrel to $20, starting in September.
According to Reuters calculations, Russia's oil and gas revenues are due to rise to around $7.5 billion in September, up 14% from the previous month. In September 2022, the corresponding figure was $7 billion.
The rise reflects a 24% month-on-month increase to $11.2 billion in proceeds from a mineral extraction tax, according to the calculations, based on data from industry sources and official statistics on oil and gas production.
For more stories on economy & finance visit RT's business section
You can share this story on social media: