No rebound in sight for German economy – experts
Gross domestic product will fall 0.5% this year, according to the IMK institute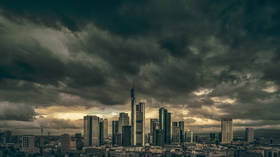 Germany's GDP is expected to shrink by 0.5% this year as the EU's largest economy continues to struggle with an energy crisis and higher interest rates, the IMK institute reported on Tuesday.
The IMK's forecast of 0.7% GDP growth for 2024 is also significantly more pessimistic than its spring projection of 1.2%. Other German economic institutes such as the Ifo expect GDP growth of 1.4% for 2024.
"The German economy, weakened by energy price shocks, will not really get going in the coming months, because high interest rates and a subdued global economy are putting the brakes on," the IMK stated.
The report predicted that private consumption will recover from the end of the third quarter due to declining inflation and stronger wage increases. "This positive development comes so late that it can only somewhat mitigate the recession in 2023 as a whole, not prevent it," the IMK noted.
Germany officially slipped into a technical recession in the first quarter of the year as GDP growth was revised from zero to -0.3%. The Bundesbank announced last week that the economy was likely to shrink this quarter thanks to slow private consumption and the increasing weakness of industry.
Deutsche Bank CEO Christian Sewing previously warned that Germany could once again be called the 'Sick Man of Europe' if structural economic issues are not addressed immediately.
For more stories on economy & finance visit RT's business section
You can share this story on social media: