EU state makes precedent-setting decision on frozen Russian assets – Kommersant
This marks the first time funds have been released following a class action lawsuit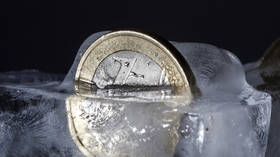 A group of Russian investors have managed to recover funds blocked in the European Union as part of Ukraine-related sanctions on Moscow, Kommersant business daily reported on Monday, citing the attorney association Delcredere.
The Belgian Treasury issued permission to unlock frozen assets at the EU's largest depository, Euroclear, setting a precedent for granting such a license based on a collective application, the outlet wrote.
The claim was submitted by a large Russian management company in early January this year on behalf of a group of more than 250 investors, including individuals and entities. The name of the company has not been disclosed.
The amount of unblocked funds totaled over $33 million, which included foreign bonds and shares, depositary receipts, structured notes and cash, the co-head of Delcredere's sanctions practice, Andrey Timchyuk, revealed.
"Some of the clients have EU residence permits and accounts in European financial institutions. Permission from the Belgian Treasury was obtained to transfer all assets to accounts in a Cypriot broker. Further disposal of assets will depend on the will of the management company and its clients," he said.
Private investors used to hold funds within European clearing houses through Russia's National Settlement Depository (NSD). Both Euroclear and Clearstream ceased transactions with NSD and blocked its accounts amid sanctions against the Russian depository in mid-2022. This deprived Russian investors of the opportunity to retrieve their assets. In January, the Bank of Russia estimated that Russian assets stuck at Euroclear and Clearstream amounted to about 5.7 trillion rubles ($59.2 billion).
Euroclear had previously authorized the release of frozen funds owned by Russian investors but only under individual requests. The latest such case took place last week when the Belgian regulator unlocked assets held in Euroclear and allowed the transfer of the money to a foreign bank account.
According to Timchyuk, class action lawsuits are more difficult to win due to a large number of participants.
"One of the requirements [for obtaining a license] is that the assets should remain within the EU. It is much easier for one individual to open an account in the EU than to do this for all participants in a collective application," he noted.
So far, most collective claims by Russian investors were either rejected or are still pending a decision from EU regulators. However, experts are optimistic about the investors' chances of recovering their funds following the latest precedent saying that with the right approach group applications now have more chances for success.
For more stories on economy & finance visit RT's business section
You can share this story on social media: