German construction industry 'faces abyss' – property mogul
Rising costs and red tape have been hurting the sector, Vonovia has warned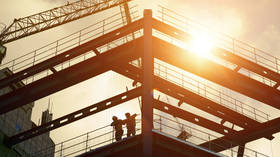 Germany's crucial construction sector has been on the brink of collapse, putting in jeopardy the overall economy. The Economist reported that last week, citing housing giant Vonovia.
The report says the sector makes up 12% of the country's GDP and employs a million construction workers.
"We are sending our construction industry into the abyss," the chief executive of Vonovia, Rolf Buch, was quoted as saying.
The article indicated that despite the German government's pledge to build 400,000 flats a year, industry estimates have shown that about 700,000 a year are needed, "not least to house the more than one million Ukrainians" taking shelter in the country.
Last year, just 295,000 new buildings were built. Buch described the resulting shortage of affordable housing in parts of the country as a "societal tinderbox."
The Economist wrote that soaring energy prices and high building material costs as a result of supply-chain disruptions have been crippling the construction industry. Meanwhile, higher interest rates have increased the cost of debt that many German builders rely on to get projects off the ground, it noted. All of this has resulted in construction firms and property developers going bust, with 437 building companies filing for insolvency in the first four months of this year, representing an increase of 20% year-on-year.
"It is not a functioning market," head of think-tank Ifo Clemens Fuest said, pointing to remorseless red tape, namely the introduction of 'rent brake' as well as strict environmental regulations.
The German Property Federation (ZIA) said in its spring report that housing shortages have likely reached their highest level in 20 years and that the gap between supply and demand may widen to 700,000 buildings by 2025. According to ZIA estimates, 1.4 million people will be looking for a place to live in 2024 and will not be able to find one "if we don't turn things around immediately."
For more stories on economy & finance visit RT's business section
You can share this story on social media: