Kremlin warns US over plan to hand Russian assets to Ukraine
Washington has pledged to provide Kiev with $5.4 million in frozen funds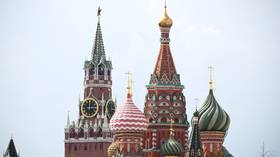 Moscow considers the blocking, seizure or retention of its state assets and reserves, as well as those of its citizens, to be illegal, Kremlin spokesman Dmitry Peskov told reporters on Thursday.
He was responding to a question during a press briefing about a promise by the US to transfer frozen Russian funds to Ukraine.
Any attempts to use funds blocked by the US and its European allies will eventually lead to legal action, Peskov warned, adding that "none of the cases of such illegal retention will be left without attention."
"Claims that they have managed to find legitimate grounds for the continuation of this illegality are nonsense," he declared.
The remarks came after US Secretary of State Antony Blinken, who arrived in Ukraine on Wednesday, announced plans to provide Kiev with $5.4 million in assets seized from sanctioned Russian businessmen. The funds are part of a new $1 billion support package and will be directed to aid Ukrainian veterans of the military conflict, according to the US official.
"For the first time, we are transferring to Ukraine assets seized from sanctioned Russian oligarchs, which will now be used to support Ukrainian military veterans. Those who have enabled Putin's war of aggression should pay for it," Blinken stated at a joint press conference with Ukrainian Foreign Minister Dmitry Kuleba.
The US has reportedly provided Ukraine with more than $43 billion in aid since the outbreak of hostilities in February 2022.
For some time, Washington has been investigating ways to use frozen Russian assets to cover the cost of reconstruction in Ukraine after the conflict. The US Justice Department has launched a dedicated unit called KleptoCapture to help enforce sanctions on Russian government officials and businessmen, targeting their yachts, jets, real estate, and other assets.
Meanwhile, Peskov noted that lawsuits over immobilized Russian funds were already underway in many countries with some entrepreneurs achieving success "including in appealing against illegal actions of an investigative nature and illegal searches conducted against them."
Moscow has repeatedly called Western attempts to confiscate frozen Russian assets as "barbarism" and "theft", threatening to respond in kind, if necessary.
For more stories on economy & finance visit RT's business section
You can share this story on social media: