Russian investors sue EU clearing house
Clearstream blocked billions of dollars in private assets as part of Ukraine-related sanctions last year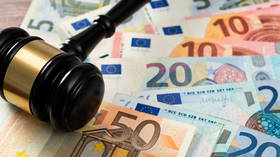 Russian investors have launched a class action lawsuit against Clearstream, the Luxembourg-based international settlement depository, aiming to recover funds blocked due to the West's Ukraine-related sanctions against Russia. The case was announced on Friday by the law firm NSP, which is handling the case, on its official Telegram channel.
The lawsuit was filed on August 17 at the Arbitration Court in Moscow. The plaintiffs are seeking to recover roughly 200 million rubles ($2.14 million) in compensation for the value of their blocked assets, as well as accrued but not received dividends and other payments. The law firm has said that it expects the first court hearing to take place in October.
Earlier this year, Russian investors also took legal action against the EU's largest depository, Belgium-based Euroclear, which last month revealed that it had accrued nearly $2 billion in profit from frozen Russian assets in the first half of 2023. In total, at least 18 lawsuits, including two class actions, have been filed against Euroclear in Russian courts so far. According to lawsuits that have declassified their monetary demands, Russian investors are seeking to sue the depository for about 200 billion rubles ($2.1 billion).
Private investors used to hold funds within the European clearing houses through Russia's National Settlement Depository (NSD). Both Euroclear and Clearstream ceased transactions with NSD and blocked its accounts amid sanctions against the Russian depository in mid-2022. This deprived Russian investors of the opportunity to retrieve their assets. In January, the Bank of Russia estimated that Russian assets stuck at Euroclear and Clearstream amounted to about 5.7 trillion rubles ($60.9 billion).
Late last year, EU regulators authorized the release of "certain" frozen Russian funds by granting temporary general licenses to NSD at both Euroclear and Clearstream. However, shortly afterwards, Russian media outlets reported that the licenses could not be enforced because the NSD could not fulfill their requirements.
Experts are optimistic about the investors' chances of recovering their funds through legal action following a precedent in February. Back then, the Arbitration Court in Moscow ruled against Euroclear in a case filed by Bank St. Petersburg, which demanded the recovery of $107 million held at the depository. In April, the Belgian Treasury issued a license for the bank to unblock its assets frozen on NSD's account with Euroclear for about $110 million.
For more stories on economy & finance visit RT's business section
You can share this story on social media: