Russian oil exceeds Western price cap
Urals crude was trading well above $60 a barrel in August, according to statistics from the country's Finance Ministry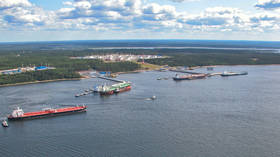 Russia's flagship Urals crude averaged $74 per barrel last month, above the $60 price cap set by the EU and G7 countries in an attempt to curtail Moscow's oil revenues.
According to data released by the Russian Finance Ministry on Friday, the price was higher than the July average of $64.37 per barrel and slightly down from what it fetched in August 2022. To compare, the average price of the Brent crude benchmark was $86.20 per barrel in August.
The price cap on Russian oil imposed by the EU, G7, and allied countries last December prohibits Western shipping, insurance, and re-insurance companies from handling Russian cargoes unless they are sold at or below the set price. A similar restriction was introduced in February for exports of Russian petroleum products.
Moscow has responded to the restrictions by outlawing the sale of oil and refined products to buyers that comply with the cap.
August was the second consecutive month in which the average price of Russia's Urals topped the $60 price since the mechanism was implemented, according to the data.
India and China emerged as key buyers of Russian crude after Moscow redirected shipments away from the West in response to the sanctions.
Meanwhile, Bloomberg reported that exports of Russian oil using Western-insured tankers were continuing despite the fact that the price of the Urals grade had jumped above the $60 per-barrel limit.
According to the news agency, about 40% of vessels carrying crude from Russia's Baltic and Black Sea ports were either owned or insured by companies based in countries that had agreed to support the price cap.
For more stories on economy & finance visit RT's business section
You can share this story on social media: