Ukraine goes on the attack against Mars
Kiev has added two US food and beverage giants to its list of war sponsors because of their business in Russia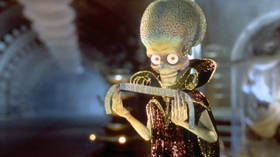 American food and beverage multinationals PepsiCo and Mars have been declared international war sponsors by the Ukrainian National Corruption Prevention Agency (NCPA) due to their reluctance to leave the Russian market, according to an announcement by the agency on Friday.
The NCPA, which manages the list, had previously declared one of the world's biggest snack companies, Mondelez International, an 'enemy of Ukraine' for the same reason.
"Despite all the statements about reduction of their businesses, halting advertising and manufacturing in Russia, they [PepsiCo and Mars] keep working in Russia, paying significant taxes to the state budget," the NCPA said in a statement.
The agency also said that the US corporate giants are "actively looking for new employees in Russia."
The list has no legal power and is seen as a shaming mechanism with which Kiev attempts to inflict reputational damage on selected companies with significant business interests in Russia. There is also no specific criteria for inclusion on or exclusion from it.
Ukraine has already added almost 40 international brands, including Unilever, Xiaomi, Bacardi, Procter & Gamble, Yves Rocher, and Alibaba (the owner of AliExpress) to the list over what it claims is their reluctance to leave the Russian market.
In March 2022, Mars announced plans to halt all advertising, media activity, and investment in Russia in the wake of Moscow's military operation in Ukraine. However, the multinational continues to sell its products in the country and produces them locally.
These include candy bars and confectionery products such as Bounty, Milky Way, Twix and Mars, M&Ms, and Skittles, as well as Orbit and Wrigley's chewing gum. Mars, which has operated in Russia for over 30 years, also produces pet food brands such as Pedigree, Royal Canin, Whiskas, and Sheba.
Separately, the food giant has outlined plans to provide financial support to Ukraine. Earlier this year, Mars said it had donated $13.5 million to help Ukrainian "people and their pets" impacted by the conflict. The move caused concerns among Russian lawmakers, while the prosecutor general ordered an investigation into the company for possible financing of the Armed Forces of Ukraine.
In September 2022, PepsiCo announced that it would halt local production of its flagship soft drink Pepsi, as well as Mirinda, 7up, and Mountain Dew. The company added that it would continue to sell only essential items in Russia, including milk, dairy products, infant formula, and baby food.
Russia is PepsiCo's third-largest market for revenue, behind the US and Mexico. The brand has operated over 20 enterprises in Russia and invested more than $10 billion into its business in the country. Famously, Pepsi was the first American brand to take root in Russia, in 1972, when it was still part of the Soviet Union.
For more stories on economy & finance visit RT's business section
You can share this story on social media: