Google's debts in Russia revealed
Unpaid vendors want the tech giant's division in Russia to be declared bankrupt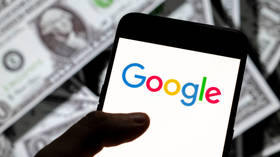 Alphabet, the owner of Google and of its Russian subsidiary Google LLC, owes millions of dollars to local vendors, who want their sector of the tech giant's global operations to be declared bankrupt, TASS reported on Monday, citing minutes from the first meeting of the company's creditors in Russia.
According to the news agency, the total amount of Google LLC's monetary liabilities as of the end of August topped 20.1 billion rubles ($211 million).
The creditors' meeting was attended by representatives of eight vendors, including Izhevsk Radio Plant and the 2GIS mapping service, as well as agents of Russia's Federal Tax Service. It was decided that these providers will now apply to the Moscow Arbitration Court to demand Google LLC be declared bankrupt. This would give them a chance to recoup some of their losses via the courts.
Google has been under pressure in Russia since the end of 2021 over its failure to delete content Moscow had deemed illegal and for restricting access to some Russian media on YouTube. Over this period, authorities slapped Google LLC with several hefty fines. In April last year, reports emerged that the company had failed to pay up, resulting in the seizure of Google's Russian accounts.
In May 2022, the company announced its intention to file for bankruptcy. It also confirmed its accounts seizure, which, it said, made it impossible to pay staff and vendors. In November 2022, the Arbitration Court of Appeal initiated the first bankruptcy proceedings against Google LLC, placing it under supervision.
Since last fall, over 1,000 Russian companies have filed legal complaints against Google LLC. The majority related to the company's failure to provide advertising services, which it suspended after filing for bankruptcy.
According to the Russia unit's earnings report for 2022, Google's revenues there last year amounted to 24.2 billion rubles ($255 million), an 82% drop from 2021. The balance of cash and cash equivalents on Google LLC's accounts as of December 31, 2022 amounted to 375.5 million rubles ($3.9 million). The company said that these funds were seized by Russia's Federal Bailiff Service at the end of last year. Interfax later reported that the funds were transferred to the service's deposit account as an interim measure ahead of legal proceedings.
In May this year, Google LLC filed a lawsuit with the Arbitration Court in Moscow against the Federal Bailiff Service, challenging the seizure of its assets.
For more stories on economy & finance visit RT's business section
You can share this story on social media: