Red Cross gets gold bars left on train
A mysterious stash of over 100 gold ingots was found on a Swiss train in 2019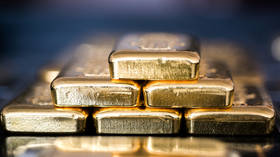 The Red Cross is about to receive a donation of 120 gold bars discovered on a Swiss train four years ago, local media reported on Friday, citing a statement from Swiss prosecutors.
In October 2019, an attendant on a Swiss Federal Railways train travelling from the northeastern town of St. Gallen to Lucerne found a mysterious package that was found to contain 120 gold bars. The bars, which were labelled with a logo and serial numbers, weighed a total of 3.7 kilograms and are worth an estimated $220,000.
The package also featured the words 'ICRC valuables', which investigators took to be a reference to the Geneva-based International Committee of the Red Cross.
An investigation was launched and the discovery was even publicized in the local media in an attempt to find the owner of the bullion. According to media reports, over the years several people inquired about the gold, but failed to prove their ownership.
The prosecutor's office on Friday said it had decided not to wait any longer and hand the gold over to the Red Cross to close the case.
"Despite extensive investigations, the owner of the gold bars could not be determined. Thus, neither the owner of the gold nor a connection with a possible property crime could be determined. Since the gold was in a package addressed to the ICRC, it can be assumed that the unknown owner wanted to hand over the gold to this organization. Thus, the find is handed over to the ICRC," the prosecutor's office was cited as saying.
The Red Cross said it had yet to receive the donation, but planned to sell the bars when it does to fund its work worldwide.
"We extend our appreciation for this generous contribution to the ICRC, which will play a vital role in sustaining our global humanitarian operations. The received donation will significantly contribute to financing ICRC's worldwide operations, dedicated to protecting and assisting the most vulnerable people impacted by war and violence," it said in a statement.
The agency added, however, that while it was grateful for any support, it preferred donations to be made by more traditional means.
For more stories on economy & finance visit RT's business section
You can share this story on social media: