Top Russian bank ready to back Europe's biggest high-speed rail project
Sber will participate in the financing of a new route between Moscow and St. Petersburg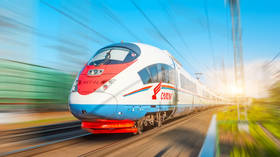 Russia's biggest bank, Sber, is ready to participate in the financing of a new Moscow-St. Petersburg high-speed rail project along with several other major lenders, vice-chairman of the board Anatoly Popov announced on Thursday.
Construction of the 650km line received President Vladimir Putin's approval last week. Russian banks VEB.RF and Gazprombank have already announced their readiness to take part in the financing and construction of the project, which is estimated at 1.7 trillion rubles ($18 billion).
"For Russia, with its vast distances, such a project is extremely important. The Moscow-St. Petersburg high-speed line is the beginning of the development of a network of such highways," Popov told reporters.
He noted that the new route will cut the travel time between the two cities to 2 hours and 15 minutes. The trip currently takes about four hours using the Sapsan high-speed train. By 2030, the average annual passenger traffic [on the route] is estimated to be around 22.6 million people, Popov indicated.
High-speed railways allow trains to run significantly faster than traditional alternatives, at speeds of around 200-400kph. The Sapsan service currently operated by Russian Railways between Moscow and St. Petersburg has a top speed of 250kph.
There are also plans for a new high-speed railway between Moscow and Kazan, Russia's fifth-largest city and the capital of Tatarstan. The 770km journey could be significantly reduced from the current 12 hours to just three and a half.
China has expressed an interest in funding the project, as it considers the Moscow-Kazan route as a way to boost ties and trade between the two countries, as well as an investment.
For more stories on economy & finance visit RT's business section
You can share this story on social media: