Russia planning major high-speed rail expansion
New routes could substantially reduce the travel time between the capital and several major cities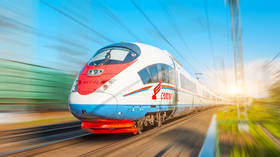 Russian Railways (RZD) will continue developing the country's high-speed railroad system and intends to build three major new lines in the near future, its head, Oleg Belozerov, has revealed.
According to Belozerov, in the short term the company plans to build new routes connecting Moscow with St. Petersburg, Kazan, and Rostov-on-Don.
"We are now in the final stage of discussions. The prime minister is ready to hold a meeting. Construction will be funded through a public-private partnership ..." Belozerov said in a weekend interview with the TV channel Kultura.
High-speed railways allow trains to run significantly faster (at 200-400 km/h) than traditional rail.
Russian Railways currently operates high-speed trains, called the 'Sapsan', between Moscow and St. Petersburg at a top speed of 250 kilometers per hour. The trip currently takes just less than four hours, but the new route will cut the travel time in half, according to Belozerov.
There have long been plans for a new high-speed railway between Moscow and Kazan, which is Russia's fifth-largest city and the capital of Tatarstan. The 770-kilometre-long journey could be significantly reduced from the current 12 hours to just three and a half.
China earlier expressed an interest in funding the Russian project, as it considers the Moscow-Kazan route not only as an investment, but also as a way to further boost ties as well as trade between the two countries.
Traveling by train between Moscow and Rostov-on-Don in southern Russia currently takes about 15 hours.
For more stories on economy & finance visit RT's business section
You can share this story on social media: