Court orders Siemens to deliver trains to Russia
The German company has been accused of failing to meet its contractual obligations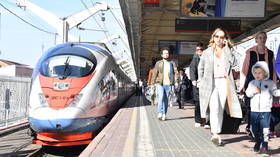 The Arbitration Court of Moscow ruled on Tuesday that Siemens Mobility's refusal to honor a contract signed with Russian Railways is illegal, and ordered the German firm to deliver high-speed trains.
Under the deal signed by the two companies in June 2019, a branch of the German multinational conglomerate focused on rail technology and intelligent traffic systems was to deliver 13 high-speed Sapsan trains from September 2022 to July 2023.
The total value of the supply contract amounted to €513.5 million ($546.2 million), according to Russian Railways.
Siemens was also to provide maintenance and repair for the trains during their entire serviceable life, which is 30 years. The cost of the additional maintenance agreement reportedly amounted to €583.1 million ($620.3 million).
At the time of signing the contract in 2019, Russian Railways operated 16 Sapsan high-speed trains. The company was planning to increase the number of journeys between Moscow and St. Petersburg, and Moscow and Nizhny Novgorod, using the new trains.
However, last October, Siemens Mobility notified the Russian company about the termination of the contract "due to the sanctions imposed on Russian legal entities," the court ruling read.
"The sanctions legislation of the US and the EU contradicts public policy" and cannot be applied in Russia, the court ruled, adding that the defendant did not have a legal basis for terminating the contract unilaterally.
Moreover, the court highlighted that restrictive measures, according to the explanations of the EU, are not applied retroactively.
German concern Siemens and all its subsidiaries announced plans to withdraw from the Russian market last May. The company also said it would withdraw from joint ventures and terminate service contracts for maintenance with Russian Railways.
Siemens also said the decision was due to the inability to further fulfill its contractual obligations because of sanctions and the requirements arising from them.
For more stories on economy & finance visit RT's business section
You can share this story on social media: