Russia finds alternative to Siemens turbines
Iranian-designed parts will replace German equipment in hydropower plants after sanctions halted operations last year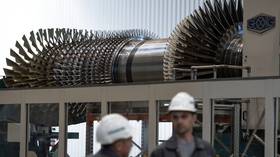 Russia has begun producing Iranian-designed parts to replace Siemens turbines in its hydropower plants after sanctions impeded the servicing of German-made equipment last year.
MGT-70 gas turbine units are copies of Siemens hardware, developed by the Islamic Republic. The country attained a license for their assembly and localized production before a recent wave of anti-Iran sanctions took effect.
Currently, Russia can domestically produce small and medium turbines, but devices with a large capacity of between 100MW and 120MW were produced at a Siemens assembly plant in Russia.
The Iranian turbines could potentially replace equipment produced by the German industrial giant, which halted operations in Russia last year due to sanctions.
These measures have hit industry ties between Russia and its Western equipment suppliers. Last year, state energy giant Gazprom had to gradually reduce gas deliveries to Europe via the Nord Stream 1 pipeline due to technical problems related to servicing turbines.
Manufactured by Siemens, the turbines needed regular maintenance at the company's plant in Montreal, Canada, where they became stranded due to Ottawa's sanctions on Russia's energy industry. After a request from Germany, which feared a shortage of gas if the pipeline were shut down, Canada exempted the turbines from restrictions. They were allowed to be sent to Germany with further delivery to Russia. However, Gazprom then refused to take them back without a legal guarantee that they could be repaired in future.
For more stories on economy & finance visit RT's business section
You can share this story on social media: