EU's LNG imports down to nearly two-year low – Bloomberg
Low prices are reportedly driving traders to supply more lucrative Asian markets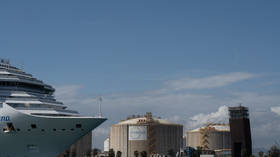 Imports of liquefied natural gas (LNG) by the EU have slumped to their lowest level in nearly two years, Bloomberg reported on Wednesday, citing ship-tracking data.
LNG deliveries declined 7% in July compared to a year earlier to 8.6 million tons, the lowest level since November 2021, the outlet writes.
The drop comes on the back of a slide in the region's benchmark gas prices, which have slumped more than 80% during the period, prompting traders to redirect supply to Asia, where rates are higher, or wait for prices to rise again, Bloomberg explains.
The front-month futures at the TTF hub in Amsterdam, the benchmark for gas trading in Europe, were at around €28 ($31) per megawatt-hour (MWh) on Wednesday, down from roughly €200 ($220) per MWh a year ago.
Asia, meanwhile, has seen an increase in spot LNG prices over the past few days, with the average price for September delivery to northeast Asia at almost $11 per million British thermal units on Tuesday, which equals $38.5 (€35.1) per MWh. The increase has been attributed to heatwaves in Japan, South Korea, and parts of China.
The EU switched to LNG to compensate for the loss of pipeline gas from Russia last year, boosting imports by over 60%. The EU's top LNG supplier is the US, followed by Qatar, and Russia.
EU countries currently have above-average stockpiles of gas, with storage sites over 85% full as of July 31, according to data from Gas Infrastructure Europe.
However, as the bloc prepares for winter, it may need to raise the prices to lure shipments away from Asia, Bloomberg has concluded.
For more stories on economy & finance visit RT's business section
You can share this story on social media: