Egypt pushing for new economic world order with Russia
African nations should liberate themselves from Western dominance, a professor at Cairo University told RT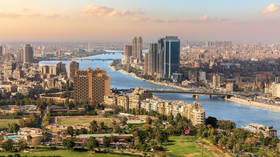 Russia and Africa have enjoyed a partnership since Soviet times and should now push for a "new economic world order" to challenge US-led Western hegemony, Nourhan El-Sheikh, a professor of international relations at Cairo University, told RT on Tuesday.
The dominance of the dollar in the global financial system, which was put in place by the US after World War II to rule over the world economy, is unprecedented, she argued, while speaking on the sidelines of the Valdai Discussion Club.
"It's important for Africa to liberate ourselves not only from colonization but from a new form of colonization – from the dollar, from SWIFT, from all those measures which posed many difficulties for our cooperation."
El-Sheikh said that a shift away from the dollar and euro will "encourage our cooperation" and urged for more Africa-Russia trade to be conducted in national currencies, saying that "everyone would benefit" from gaining independence from Western financial instruments.
Touching upon the Black Sea Grain Initiative, the professor claimed that African nations didn't benefit from the deal, which had been designed to alleviate hunger in poor countries but in reality ended up "serving the interests of European countries and other rich nations."
She pointed out that of the 33 million tons of grain exported, only 3% of it actually reached poor countries.
Russia withdrew from the agreement last Monday, complaining that the US had failed to keep its promises to lift some of the restrictions imposed in the wake of Moscow's military operation in Ukraine, including reconnecting its banks to SWIFT, opening a key ammonia pipeline, permitting imports of agricultural machinery and parts, and unblocking transportation insurance, among other logistics issues.
At the same time, El-Sheikh praised Russia's move to send grain and fertilizers free of charge to African countries, as well as its decision to write off $25 billion in African debt.
Africa is suffering from multiple crises, with food and energy crunches hitting the population the most, she noted. About 43% of people living on the continent don't have access to electricity, according to various estimates.
Energy projects carried out in cooperation with Russia could bring some relief to power-strapped regions, according to El-Sheikh. In particular, she highlighted the construction of the El Dabaa nuclear power plant in Egypt.
The El Dabaa NPP, which is run by Russian state energy major Rosatom, will consist of four units using Russia's VVER technology, each with a capacity of 1,200 MW and equipped with generation III+ VVER-1200 reactors, the most advanced technology currently available. Egypt expects the NPP to operate at full capacity by 2030.
For more stories on economy & finance visit RT's business section
You can share this story on social media: