BRICS leaders to discuss sustainable payment mechanism – Moscow
The bloc is aiming to conduct more settlements in national currencies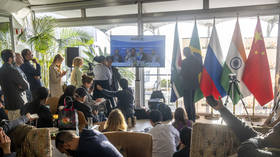 Establishing sustainable payments mechanisms for mutual trade is among the key issues for the BRICS group of nations to discuss at their summit next month, the Russian Foreign Ministry told RT on Friday.
"Given the current international situation, this issue will be addressed during the upcoming meeting of the bloc's leaders," the ministry said, referring to the summit in Johannesburg, South Africa, on August 22-24.
According to the Russian Foreign Ministry, the use of national currencies in mutual trade is complicated by factors such as their limited convertibility and higher volatility compared to the US dollar. The ministry also acknowledged that the potential creation of a new BRICS single currency would be a "delicate" process.
The BRICS nations have been seeking to shift further from the US dollar in mutual trade, with the de-dollarization trend gaining momentum following sanctions that effectively cut Russia off from Western financial mechanisms. Numerous developing nations – including Russia's fellow BRICS members China, India, Brazil and South Africa – have started to move toward alternative currencies in trade.
Russia floated the idea of introducing a BRICS currency last year. President Vladimir Putin said last June that member states were working on developing a new reserve currency based on a basket of the national currencies used by the five-nation bloc.
For more stories on economy & finance visit RT's business section
You can share this story on social media: