EU country braces for electricity tariff hike
Power prices in France will jump by 10% in August, President Emmanuel Macron has confirmed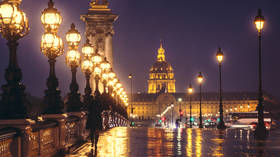 French President Emmanuel Macron has confirmed that electricity prices for millions of households will rise by 10% from August as the government plans to scrap the tariff shield support program.
In an interview with France 2 this week, he called the increase in power prices a "proportionate" decision, linking it to geopolitical tensions and market disruptions. While confirming the end of the tariff shield, Macron stated that "the government will continue to support the most low-income households."
In an effort to shield citizens from soaring bills amid high inflation rates across the Eurozone, the French authorities introduced a cap on electricity price hikes.
While the tariff shield was first implemented in 2021, electricity bills were capped at 15% from February to the end of July this year.
"For energy, it comes from outside. The state has invested to absorb all this but in the long term, if we had continued, it would have cost taxpayers," Macron said.
Electricity prices in the EU soared last year following the bloc's decision to abandon Russian energy as part of its sanctions policy. Another contributing factor to the rising prices was record-low nuclear output in France, where state-owned utility EDF has been struggling to get its fleet of nuclear reactors affected by stress corrosion back on track.
France's electricity price cap is expected to be completely phased out by the end of 2024, according to a recent announcement by the minister of public action and accounts, Gabriel Attal.
Losses incurred due to the shield between 2021 and 2023 are estimated at over €110 billion ($121 billion), according to official numbers. Meanwhile, electricity prices under regulated tariffs have surged by an average of 31% since the end of 2021.
For more stories on economy & finance visit RT's business section
You can share this story on social media: