Ukraine to seize bank from Russian billionaires – Bloomberg
Sense Bank, Ukraine's 11th largest lender in terms of assets, belongs to sanctioned Russian businessmen Mikhail Fridman and Pyotr Aven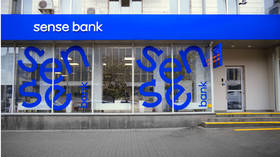 Ukraine plans to seize Sense Bank, previously known as Alfa-Bank Ukraine, from its Russian owners, Mikhail Fridman and Pyotr Aven, Bloomberg reported on Friday, citing sources. According to the report, the move is expected in mid-July.
Sense Bank is Ukraine's 11th largest in terms of assets and is considered a systemically important lender. Fridman and Aven own the bank via Luxembourg-based holding company ABH Holdings, which controls the lender's Cyprus-based parent, ABH Financial Limited.
Kiev first pitched plans to nationalize the lender in December last year, following the bank's rebranding. Last month, Ukrainian President Vladimir Zelensky signed a law that gave the government power to nationalize banks from owners that were sanctioned in connection to Russia's military operation in the country.
Both Fridman and Aven have been targeted by Western authorities for their alleged ties to the Russian government and have faced sanctions, including asset freezes and travel bans, but have since challenged these restrictions in court.
Earlier this week, Kiev added a number of companies linked to Sense bank to its sanctions list, including ABH Holdings, ABH Ukraine Limited, Alfa Insurance, and Alfa Capital Holdings Limited. According to Forbes Ukraine, citing an unnamed Ukrainian official, the measure "removed the last obstacle to the nationalization of Sense bank."
In a statement last month, ABH Holdings pledged to dispute nationalization in international courts "in order to protect its investment and mitigate losses." The company noted that it was ready to change the ownership structure of the bank and agreed for the sale of 75.6% of Sense Bank to a "European investor" with no "funds flowing to sanctioned shareholders" following the transaction. According to Bloomberg, the sale was blocked by the Ukrainian central bank.
Sense Bank was the Ukrainian branch of Russia's largest private lender, Alfa-Bank, which was targeted by EU sanctions in its tenth sanctions package in February. Earlier this year, reports emerged that Fridman and Aven, who own 45% of Alfa-Bank, were finalizing a deal to divest from the lender to escape further sanctions.
For more stories on economy & finance visit RT's business section
You can share this story on social media: