Treasury secretary explains why US can't break ties with China
A separation of the world's two largest economies would be virtually impossible, according to Janet Yellen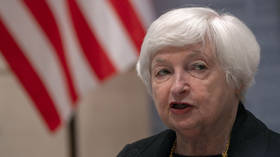 The US is not seeking to "decouple" its economy from China as any such move would destabilize the global market, Treasury Secretary Janet Yellen said during a visit to Beijing on Friday. She argued that "healthy" competition is beneficial to both nations.
Yellen is on a four-day trip to China which she stated was aimed at developing a "stable and constructive relationship" between the two countries.
"We seek to diversify, not to decouple," Yellen explained. "A decoupling of the world's two largest economies would be destabilizing for the global economy, and it would be virtually impossible to undertake."
Yellen's visit follows that of US Secretary of State Antony Blinken, who headed to Beijing last month as Washington seeks to ease tensions.
The Treasury official said she was "concerned" about export controls after Beijing announced on Monday that from next month onwards special licenses will be required to export gallium and germanium – two key metals used to make computer chips.
"We are still evaluating the impact of these actions, but they remind us of the importance of building resilient and diversified supply chains," Yellen said at a meeting with US businesses in Beijing.
China's Finance Ministry issued a statement on Friday expressing hope that the US would take "concrete actions" to create a favorable environment for bilateral economic and trade ties."No winners emerge from a trade war or from decoupling and 'breaking chains'," the statement read.
Washington and Beijing have been involved in a dispute over semiconductors and other advanced technologies for several months.
Last October, the administration of US President Joe Biden announced measures aimed at bolstering US tech capabilities and limiting China's access to advanced technology. Washington introduced sweeping export control rules, effectively cutting China off from certain semiconductor chips made with US equipment.
Yellen said that in her meetings with the Chinese government, she had "made clear that actions we take to protect our national security are designed to be narrowly targeted."
Beijing has thus far taken limited action in response, but did retaliate in May by banning memory chips manufactured by Micron, the largest US producer, claiming that the company had failed a security review.
For more stories on economy & finance visit RT's business section
You can share this story on social media: