Gas guzzlers cheaper to use in Britain than EVs – report
Charging electric vehicles has become expensive in the UK due to rising electricity costs, the Climate Change Committee says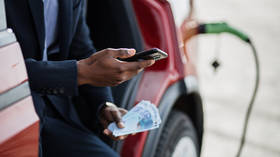 Soaring electricity costs in the UK have made gasoline and diesel cars cheaper to use than environmentally friendly electric vehicles (EVs) as charging the latter have become almost unaffordable for many, a report by the Climate Change Committee (CCC) showed.
A rise in electricity prices along with a widespread reduction in disposable income is having a considerable impact on EV owners in the UK, according to the report.
"Sharply rising electricity prices have reduced the per-mile cost savings offered by EVs compared to fossil-fuelled vehicles," the CCC said in its 2023 progress report to the British Parliament.
Drivers reliant on rapid and ultra-rapid public chargers now face higher costs than owners of gasoline or diesel cars, the CCC said. Electric car owners, whether charging their cars at home or via contracts with charging operators, have seen sharp price rises over the past year.
A further surge in power costs is expected, owing to the fact that the price of electricity is linked to that of natural gas, which has become scarcer since imports from Russia to Western Europe were slashed amid sanctions imposed on Moscow over the conflict in Ukraine.
The EV charging network in Britain has expanded by around one-third over the past year, according to the CCC report. Researchers pointed out, however, that the provision of charging points across the country remained inconsistent, sparking concerns over their reliability and cost.
For more stories on economy & finance visit RT's business section
You can share this story on social media: