Putin outlines economic outlook for Russia
Positive dynamics are forecast for the country's GDP in the coming years, the president says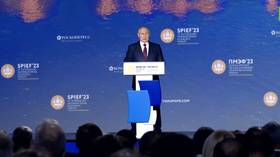 The Russian economy has continued to grow, with GDP rising by 3.3% in April of this year, President Vladimir Putin said on Friday while addressing the St. Petersburg International Economic Forum (SPIEF). He added that positive dynamics are also projected for the future.
The country's overall economic growth could reach 2% this year, Putin stated.
"I agree with those of our experts who believe that growth [GDP] will still be up to 1.5%, or maybe higher at around 2%," the president said. "This will help our country maintain its place among the leading economies in the world."
According to Putin, the government will continue working to reduce inflation, which is already close to a historic low, at 2.2%. The figure is lower than in many Western countries, the Russian leader noted.
Unemployment in Russia is also at an all-time low of 3.3%, Putin said, as he called on the government to help boost labor productivity.
The leader stressed that the level of poverty in Russia was declining, a trend which he said must be maintained.
"Our financial capabilities allow us to maintain a steady course towards ensuring social justice, reducing poverty and inequality… Of course, we will have to maintain and preserve the trend. We are indexing pensions and social benefits, payments, and increasing the minimum wage and living wage," Putin stated.
Putin argued that the strategy adopted by the Russian authorities and businesses has worked, and is gaining momentum.
For more stories on economy & finance visit RT's business section
You can share this story on social media: