West's oil war against Russia losing momentum – think tank
Moscow's energy revenues rebounded in April to their highest levels since last November, the Finland-based CREA has found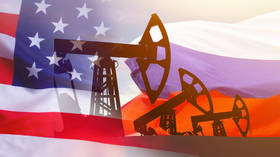 Russia's earnings from oil exports have been on the rise in recent months despite the G7 price cap and other restrictions imposed by the West, a new study by the Finnish Centre for Research on Energy and Clean Air (CREA) has found.
According to the think tank, Russia's oil revenues began recovering in March after a sharp drop in February when the G7 price caps on the country's oil and refined petroleum products and the EU import ban on its seaborne oil took effect. In April, revenues rose a further 6% month-on-month, reaching their highest level since last November.
Experts say that while the current revenues are still substantially below where they were at the same time last year, the upward trend indicates that Western sanctions on Russia's oil exports are losing momentum.
"Russia's export revenue in April was down substantially year-on-year, mainly due to the impact of the EU import ban and lower oil prices… However, Russia was able to export its main crude oil variety [Urals], for the first time, at prices that were systematically above the price cap level," Lauri Myllyvirta, lead analyst at CREA, told CNBC. He noted that this had exposed "major gaps" in the enforcement of the price cap policy, adding that if they are not fixed "this risks breaking the price cap mechanism for good."
CREA data showed that in total, Russia has generated an estimated €58 billion ($62.5 billion) in oil export revenue since the import ban and price caps came into force. Analysts noted that the rebound in revenue was driven by an increase in export prices, a circumstance attributable to the West having set the price caps too high.
"Russian revenues could have been slashed by €22 billion (37%) by setting the price cap for crude oil at $30 per barrel [instead of $60] and revising the caps for oil products accordingly," the CREA analysts wrote.
They noted that a further recovery in Russia's oil earnings "would damage the impact and credibility of the sanctions."
For more stories on economy & finance visit RT's business section
You can share this story on social media: