Goldman Sachs predicts when US will run out of cash
The warning comes as debt-ceiling talks stall in Washington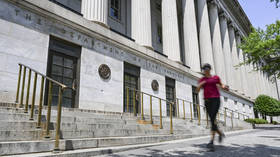 The US government may run out of money by June 9, Goldman Sachs economists have warned.
The Treasury's early June deadline for the debt ceiling looks "very accurate, in our view," Alec Phillips and Tim Krupa told MarketWatch.
According to their calculations, by June 2, the Treasury's room to maneuver under the debt ceiling will barely exceed $30 billion – the minimum cash the Treasury has targeted in earlier debt-limit projections – and the funds will have run entirely dry by June 9, MarketWatch wrote on Friday.
Phillips and Krupa expect a deal on the debt ceiling to be announced late on Friday or on Saturday. They say there is an 80% chance of a full-fledged deal, a 10% probability of a short-term patch, and a 10% chance that Congress won't act in time, the outlet added.
The US government faces a default on its $31 trillion in debt if lawmakers fail to raise the federal borrowing limit. Treasury Secretary Janet Yellen maintained earlier this week that early June was a debt-ceiling default deadline.
Reuters reported on Thursday that President Joe Biden and top Republican lawmaker Kevin McCarthy were edging close to a deal on the debt ceiling but have yet to agree on cuts to discretionary spending, which funds a wide range of military and domestic programs.
For more stories on economy & finance visit RT's business section
You can share this story on social media: