'Doctor Doom' issues global-market crash warning
The US default would be disastrous, according to eminent economist Nouriel Roubini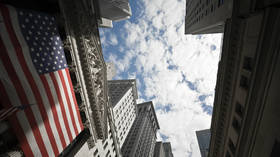 The US government's failure to agree on lifting the debt ceiling is likely to hit markets and damage confidence in the dollar over the longer term, renowned economist and New York University professor Nouriel Roubini has warned.
"They may get to the last hour before there's an agreement," Roubini told Bloomberg TV on Wednesday, on the sidelines of the Qatar Economic Forum in Doha. "Or it's possible they don't reach an agreement. If that doesn't happen, then the market is going to crash," he said.
According to Roubini, who predicted the financial crisis of 2008-09 and was nicknamed 'Doctor Doom' by Wall Street, geopolitical tensions and worsening economic relations between the US and China could become a major challenge for the global economy this year.
Warnings over a US debt default have been growing, with Treasury Secretary Janet Yellen claiming that America's chances of paying its bills after June 1 are "quite low." If Congress fails to reach an agreement on raising the country's $31.4-trillion borrowing limit by that time, she has warned, it will be forced to default on "some bills" shortly afterwards.
The debt ceiling, which is set by Congress, represents the maximum amount the federal government can borrow to pay its debts.
President Joe Biden and Republican lawmakers have been struggling to reach a deal aimed at preventing a debt default. On Monday, the US leader and House Speaker Kevin McCarthy once again couldn't agree on how to raise the ceiling with just ten days before a possible default, but have vowed to keep talking.
Republicans are calling for government spending cuts before they approve a higher limit, while Biden insists on a "clean" increase without linking the two issues.
"We reiterated once again that default is off the table and the only way to move forward is in good faith toward a bipartisan agreement," Biden said in a statement after the meeting, which he called "productive."
The US was close to breaching the debt limit several times before, most notably in 2011, when lawmakers agreed to raise the ceiling just days before the nation was about to exhaust its borrowing capacity. The following downgrade of the country's debt by credit ratings agency Standard & Poor's caused the stock market to crash, with the Dow dropping 17%.
For more stories on economy & finance visit RT's business section
You can share this story on social media: