South American country pledges to abandon US dollar
Venezuelan President Nicolas Maduro says the move will free his country's economy from sanctions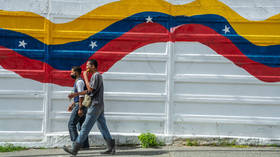 Venezuela is planning to shift away from the greenback in cross-border transactions, President Nicolas Maduro said earlier this week, claiming that the measure would help the Bolivarian Republic to free its economy.
It's the latest country to publicly share plans to reduce its reliance on the US dollar. Similar measures have recently been announced by Argentina, Brazil and Iraq. Meanwhile, the BRICS group of nations are considering the introduction of a new reserve currency to replace the dollar.
"This is the path of Venezuela and the path of a free economy where currencies are not used to punish countries and impose sanctions," Maduro said on Tuesday in an interview with local media.
Venezuela is ranked among the world's five most-sanctioned nations. The South American country has suffered one of the largest economic contractions in history. Last year, Washington allowed US energy major Chevron to resume limited oil production in the country, but the majority of sanctions remain in place and continue to weigh on the Venezuelan economy.
Longstanding sanctions policies pursued by the White House, along with rising inflation in the US, have forced multiple countries around the world to start looking for alternatives to the dollar.
Earlier this month, Argentinian President Alberto Fernandez and his Brazilian counterpart, Luiz Inacio Lula da Silva, agreed to develop a framework for using national currencies in mutual transactions.
Last month, Argentina confirmed settlements for Chinese imports in yuan rather than US dollars in an attempt to safeguard the nation's decreasing reserves. In March, China and Brazil agreed to abandon the greenback in their bilateral transactions in a bid to reduce investment costs and develop economic ties between the two countries. In February, Iraq's central bank said it would allow commerce with China to be settled directly in yuan for the first time.
Earlier this year, the yuan overtook the US dollar in China's international trade transactions.
For more stories on economy & finance visit RT's business section
You can share this story on social media: