BRICS nation wants discussion on common currency – Bloomberg
South Africa's foreign minister says the bloc must carefully discuss the idea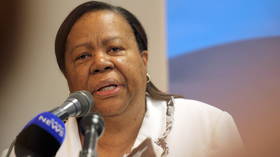 The BRICS group of nations will debate the feasibility of introducing a common currency for global trade as an alternative to the US dollar at the bloc's next summit in Johannesburg, Bloomberg has reported, citing South Africa's minister of international relations and cooperation.
"It's a matter we must discuss and discuss properly," Naledi Pandor said in an interview in Cape Town on Tuesday.
The BRICS group comprises Brazil, Russia, India, China, and South Africa. Talk of de-dollarization has emerged from governments keen to reduce their reliance on the US currency. The dollar has increased in value due to US interest rate hikes as well as geopolitical conflicts that have negatively impacted most emerging markets.
According to Pandor, BRICS nations and other countries are questioning why they are "committed to trading through the dollar" and can't use their own currencies instead.
"South Africa has an internationally traded currency," Pandor pointed out, but cautioned that her country also holds significant debt in dollars, "so you know we have to approach this discussion responsibly."
The minister warned that de-dollarization would be complex and that there would be no guarantee of success.
"I don't think we should always assume the idea will work, because economics is very difficult and you have to have regard to all countries, especially in a situation of low growth when you are emerging from crises," Pandor told Bloomberg.
The BRICS group makes up 40% of the world's population and almost a third of the global economy. According to estimates provided by the South African government, the bloc brings together about 3.2 billion people.
Last month, 19 countries reportedly expressed interest in joining the BRICS group, which is gearing up to hold its 15th annual summit in South Africa from August 22 to 24. The United Arab Emirates, Argentina, Algeria, Egypt, Bahrain, Indonesia, Saudi Arabia, and Iran are among the countries that have formally asked to become members.
You can share this story on social media: